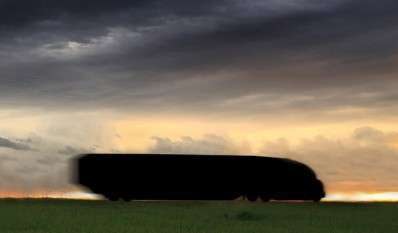 During a press conference at the Technology Maintenance Council 2010 Annual Meeting, ATDynamics announced it will partner with Navistar to provide expertise in next-generation trailer aerodynamics as part of the U.S. Department of Energy-funded SuperTruck project, a five-year program aimed at improving the efficiency of Class 8 trucks.
Andrew Smith, said the trucking industry has the potential to realize $3 billion in annual fuel savings with existing aerodynamic options. The goal of the new partnership will be to further increase fuel savings. "While the add-on devices we provide today deliver up to 12-percent fuel savings at highway speeds, the SuperTruck project will allow us to exceed those aerodynamic efficiency gains by contributing to a ground-up redesign of truck-trailer combinations," says Smith.
Aerodynamics is one of five components for the SuperTruck project, and ATDynamics' involvement will focus on truck/trailer surfaces and dynamic features. The company says it will roll out new SuperTruck-related technologies as they become available. Smith says the integration of the truck and trailer in the study of aerodynamics will push the design into new areas with the ultimate goal of reducing upstream power requirements. Prior to SuperTruck, innovations in trailer aerodynamics were pursued in isolation from truck design.
"A discontinuous leap in the efficiency of the freight transportation industry will require close collaboration between OEM manufacturers, new technology providers and fleets," added Smith. "We're intent on seizing this opportunity to reduce the country's dependence on fossil fuels and enhance U.S. energy security."