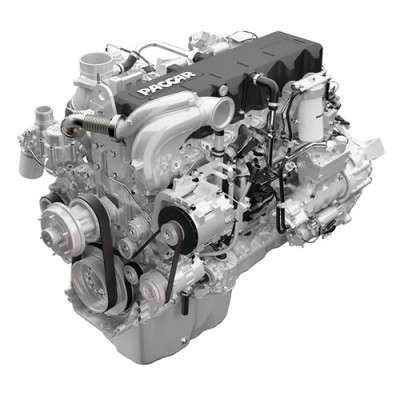 You might be tempted to say that Paccar's MX Diesel Engine is all-new. But if Paccar Chairman and Chief Executive Officer Mark Pigott were close enough to hear, he'd quickly correct you.
"While it's true that the MX Engine family is new to North America, and the MX Engine project effort is a 10-year effort that is finally coming to fruition, Paccar has been building engines via our DAF subsidiary in Europe for more than 70 years," Pigott notes.
At an event last week at Paccar's Technical Center in Mt. Vernon, Wash., the company showcased its new MX Engine that will be installed in Kenworth and Peterbilt trucks this summer, available with a range of 380 to 485 horsepower and torque outputs up to 1,750 lb-ft. Paccar says this power range – combined with excellent fuel efficiency, high reliability, durability, lightweight design and low cost of ownership – makes it suitable for both over-the-road linehaul and vocational applications. The MX uses selective catalytic reduction in combination with exhaust gas recirculation to meet the Environmental Protection Agency's 2010 diesel engine emissions regulations.
"Currently, there are more than 125,000 SCR-equipped MX Engines on the road in Europe, and Paccar has relied heavily on the technology and real-world experience we've gained, not only from our MX Engine Series, but from the 50-year history of DAF diesel engine development in Europe and the more than 900,000 diesel engines delivered in that time," Pigott says.
Pigott says the new family of five diesel engines is a significant step forward for the 106-year old company. One need only witness the staggering $1 billion total investment the company has made in this engine – including an all-new $400 million MX Engine plant in Columbus, Miss., that will begin production later this summer.
Paccar engineers opted to put the MX Engine family through a rigorous series of laboratory and real-world testing to ensure optimal performance in North American trucking applications. This included more than 125,000 hours of extreme-application, durability and thermal shock-cycle testing in 42 engine test cells, as well as high-altitude testing at Colorado's Eisenhower Pass, high-temperature testing in the Mojave Desert and Arizona, as well as cold-weather trails in Canada's Northwest Territories. The end result, according to Craig Brewster, Paccar assistant vice president, is more than 50 million verification miles for the MX Engine Series in both real-world and test track conditions. "This lengthy and intense testing cycle has given Paccar the confidence to release the MX Engine family with a 1-million-mile design criteria," Brewster says.
Paccar says the key to the engine's durability is the fact that all MX Engines in this series are designed with compacted graphite iron (CGI) heads and blocks, making the company the only OEM in the industry to construct both crucial engine components from this lighter yet stronger material. "CGI gives MX Engine components a 75 percent increase in both strength and stiffness," Brewster says. "At the same time, it provides a 200 percent increase in thermal fatigue resistance. The result is uncompromised durability for long engine life using materials that are 150 pounds lighter than competitive engines using conventional cast iron components."
An added bonus is that CGI is both quieter and transmits fewer engine vibrations to the cab of the truck. "We knew we were on the right track with CGI when drivers told us they could turn their radio volume down by half compared to their old trucks and still enjoy the music," Brewster says. "The result for trucking companies is that a quieter, smoother ride results in less fatigued, more alert drivers."
Other design enhancements for the MX Series, according to the company, include integral fuel channels cut directly into the engine block, an integrated Paccar-designed engine brake and a single crankshaft that is so perfectly balanced, it does not require counterweights, resulting in an additional 25-pound weight savings for the design. "Every aspect of this engine family has been optimized to deliver leading fuel economy," Brewster says. "This includes highly advanced electronic engine control systems, which allow operation at 36,000 psi (2,500 bar), and an integral power steering and fuel pump system to reduce parasitic drag."
The MX Engine family features an inline six-cylinder design with four valves per cylinder. The engines come standard with a two-year/250,000-mile warranty. More than 650 authorized Paccar dealers already have received extensive technical training to support the MX Series, and each certified Paccar dealer is required to have trained technicians, tools and parts on hand to provide full service support for the new engines. Kurt Freitag, director of aftermarket support, says more than 1,000 Kenworth and Peterbilt technicians are ready now to provide MX Engine support, including Pigott, who rolled up his sleeves and underwent technical training (including a complete engine tear-down and rebuild) as the company geared up to launch its new flagship MX Series.
Orders may be placed now for summer deliveries. Paccar sources say pricing will be "competitive" with Cummins' ISL engine, and initial oil drain intervals are set at 40,000 miles.