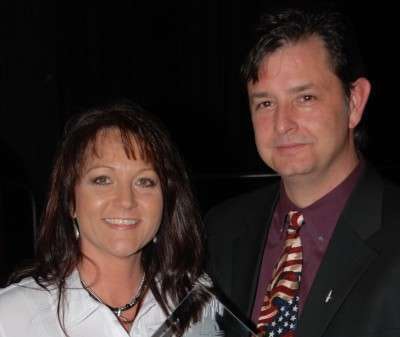 Michael Jeffress on Monday, Feb. 8, accepted Commercial Carrier Journal's Career Leadership Award for his longstanding contributions to the field of commercial vehicle fleet maintenance. CCJ editors presented the award at a dinner held in his honor in conjunction with the Technology and Maintenance Council's annual meeting in Tampa, Fla.
Jeffress, vice president of maintenance for Little Rock, Ark.-based Maverick Transportation, served as TMC chairman in 2004 and received TMC's highest honor – the Silver Spark Plug – in 2003. As TMC chairman, Jeffress was instrumental in the creation of TMCSuperTech, the national technician skills competition held each year at the TMC fall meeting. Jeffress got the idea from a similar competition held in Arkansas, and he lobbied TMC leaders to establish and fund the competition and fleets to participate.
"I cannot recall how many Career Leadership Award banquets I have attended, but I can tell you each year I have sat in that audience and thought, 'What would I say if I were the chosen one?'," Jeffress began his acceptance speech. "You know, I should have written some of those thoughts down. That would have made this so much easier."
Jeffress credited his numerous mentors, including previous Career Leadership Award recipients, of which 11 were in attendance. He noted that the award signifies a change in his career from one of student to one of teacher and mentor. Jeffress recognized two other important individuals – Brent Hilton, who has worked with Jeffress for 22 of his 23 years at Maverick, and Jeffress' wife Lynn, whom he called "my most cherished mentor of all."
CCJ presents the Career Leadership Award to individuals who have demonstrated professionalism, excellence and leadership in the field of fleet maintenance. Although the individual might be retired or moved on to another phase of his or her career, CCJ judges accomplishments while serving as a fleet maintenance professional.
About 170 TMC members attended the 2010 Career Leadership Award dinner, which was sponsored by Bridgestone Bandag Tire Solutions, Citgo Lubricants, Cummins and Roadranger.