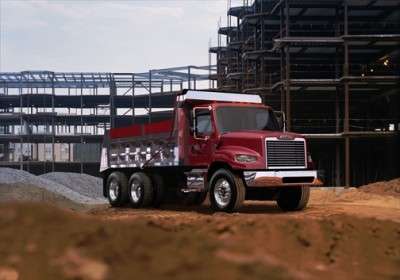 At the National Truck Equipment Association's Work Truck Show in St. Louis, various business segments of Daimler Trucks North America on Wednesday, March 10, made several announcements and showcased several products, including enchanced models and new packages.
Freightliner enhances Business Class M2 106V: Freightliner Trucks showcased the new improvements made to the Business Class M2 106V, including updated features that enhance performance and efficiency while also accommodating the new 2010 emissions requirements.
Freightliner also announced that the United States Marshals Service (USMS) has added two Business Class M2 106 trucks to its fleet, and that Asplundh Tree Expert Co. has taken delivery of its first Business Class M2 106 trucks.
The M2 106V is suited for medium- and heavy-duty vocational applications requiring a front engine PTO and front frame extensions, such as refuse collection, snow plowing, crane and utility operations and fire/emergency needs. "With the enhancements we've made to the Business Class M2 106V, we have the next generation of one of our most versatile vocational trucks," says Melissa Clausen, director of product marketing for Freightliner Trucks. "We've further extended the options for our vocational customers while meeting the stringent 2010 emissions standards."
With standard features such as multiplex wiring and front frame rail extensions, the M2 106V is already engineered for maximum customization and performance. New features include a larger radiator, new hood and improved headlight system to further enhance the truck's versatility and performance.
The larger 1,200-square-inch radiator can accommodate up to 380 hp with automatic transmission and up to 80,000 pounds GVW. The radiator is mounted to the engine and sits above the top of the frame, allowing for optimal cooling and reliability. This also allows the front engine PTO shaft to run below the radiator.
The composite headlights feature complex reflectors with halogen bulbs that are easy to replace and available at auto and truck supply stores. An upgrade over previous sealed beam headlights, this system provides superior lighting performance.
The truck's new Blend-Air intake system pulls air from under and outside the hood, which helps the stream of air when snow and debris may otherwise constrict airflow. Meanwhile, front frame rail extensions are integral rather than bolted on, allowing for a constant resistance bending moment (RBM) from the front of the frame extension to the end of the rail. The straight front frame rail extensions are standard and available in 6-inch and 24-inch lengths, providing a solid mounting point for hydraulic pumps, winches, front stabilizers and snowplows.
Freightliner said the USMS worked closely with Columbus, Ohio-based Farber Specialty Vehicles – which has worked with Freightliner Trucks for more than 15 years – to design the two M2 106 trucks as mobile command posts. Used as "command centers," these vehicles support the USMS and other law enforcement agencies in incident management by providing communications, data and general support. Incidents can range from large-scale national emergencies such as tropical storms to enforcement operations like fugitive roundups.
Ken Farber, president of Farber Specialty Vehicles, says the USMS selected the M2 106 due to its durability and flexibility, because the USMS needs trucks that are reliable and capable of traveling long distances and operating for extended periods of time without issue. "Some of the details that attracted the USMS to the Business Class M2 106 include its wide cab doors and easy engine accessibility," Farber says. "When its agents are on the move, the USMS needs a vehicle that won't slow them down, and the Business Class M2 106 provides that convenience."
Based in Philadelphia, primarily serves the vegetation management and construction needs of the electric utility industry. With operations throughout the United States, Canada, Australia and New Zealand, Asplundh has more than 26,500 employees internationally. Asplundh's fleet is dominated by medium-duty vehicles, mostly trucks with aerial lifts and/or split dump chip boxes mounted on them.
According to John Talbot, manager of fleet services for Asplundh, the company has precise requirements for its trucks – such as a specific front axle because of where the pedestal of an aerial lift is mounted. Other specs on Asplundh's trucks include a low cab height and hydraulic brakes. Flexibility and customer service also is a high priority in its choice of equipment manufacturers. "Our truck requirements are all about safety and our customers' needs, and we need a partner who will work with us every step of the way," Talbot says. "The vocational sales and marketing group at Freightliner worked with us, really listened to our needs and, most importantly, responded by building a truck to our exact specifications at a very competitive price."
Western Star debuts Allison Optimized, showcases 109-inch BBC 4900: Western Star announced a partnership with Allison Transmission to offer a specially designed Allison Optimized package for its trucks, and introduced a 109-inch BBC 4900 model.
The Allison Optimized package features shift energy management, prognostics, reduced engine load at stop, load base shift schedule, auto neutral, TES 295 synthetic fluid and warranty. The transmission is suited for heavy haul, mixer, dump and short-haul tractor applications. "We're working hard to provide our on-highway and vocational customers with superior powertrain solutions that meet the demands of their jobs, and partnering with Allison gets us one step closer to that goal," says Mike Jackson, Western Star general manager. "Allison Optimized transmissions provide our customers with a premium package that maximizes efficiency and power for a complete solution."
The 109-inch BBC 4900 – available with a 12,000- to 20,000-pound front axle and 21,000- to 46,000-pound rear axles – includes a Detroit Diesel DD13 engine and Allison 3000RDS transmission. The 109, the shortest BBC in its class, is suited for construction, government, refuse and utility applications, particularly where the truck must maneuver through congested jobsites or crowded streets.
The 13-liter DD13 features 350-450 hp and 1,250-1,650 lb.-ft. of torque and includes Detroit Diesel's BlueTec SCR (selective catalytic reduction) technology to meet 2010 emissions regulations; additional upgrades include underhood air cleaners with inside/outside air and dash controls and a 6-gallon diesel exhaust fluid tank.
"Western Star vocational customers demand a premium work truck that's ready to meet the on-site challenges of their job," Jackson says. "With the addition of the Allison transmission and body builder-friendly features, the 109 is the complete custom package that will get the job done."
FCCC debuts all-electric, gasoline-powered walk-in van chassis: Freightliner Custom Chassis Corp. said its plug-in all-electric walk-in van (WIV) chassis is the only one domestically engineered and the first in the industry to be completely all-electric (includes HVAC system) in North America. The all-electric chassis, developed in partnership with Enova Systems is built on the FCCC MT-45 WIV chassis platform.
"In partnership with Enova, we have developed an all-electric chassis to meet the environmental, economic and performance needs of our commercial vehicle customers," said Bob Harbin, FCCC president. "Our vision is clearly focused on transitioning the all-electric chassis into the mainstream of our walk-in van production programs. This new program demonstrates that FCCC remains fully committed to engineering chassis options that lower operating costs and decrease carbon footprints for our customers."
Harbin said FCCC's all-electric chassis is custom-built from the ground up for the walk-in van market, integrating the ergonomics of WIV bodies and its safety features, such as a curb-side exit, a walk-through cargo area and direct access to the cargo area from the driver's station.
FCCC's gasoline-powered chassis is built on the MT-45 and MT-55 chassis platforms. Engineers designed the new chassis to provide similar core benefits of the MT-45 and MT-55, including reliability, durability, serviceability and performance. "The gasoline-powered chassis was designed and engineered by FCCC after speaking with numerous customers and recognizing there was a market desire for FCCC chassis with this powertrain," says Jonathan Randall, FCCC director of sales and marketing. "With the addition of the gas-powered chassis, we have a product that can meet the needs of all customers, whether that need is for a diesel-powered, alternative-powered or gas-powered chassis."
Equipped with a standard Allison 1000/2000 Series transmission and General Motors 6.0-liter V8 engine, the gas-powered chassis has a GVWR of 14,500 to 23,000 pounds and features an up to 320 horsepower range. Suited for pickup-and-delivery applications, the durable steel straight-rail chassis frame reduces flex and bowing to minimize stress while carrying heavy payloads. Currently undergoing durability testing, the gas-powered chassis is expected to enter production during the third quarter of 2010 and includes a three-year, 50,000-mile warranty.