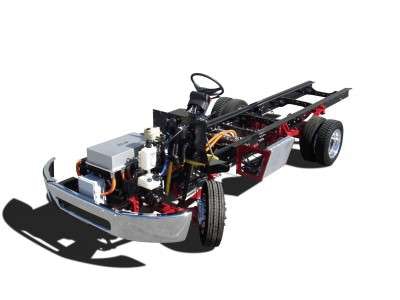 Freightliner Custom Chassis introduced a plug-in, all-electric walk-in van chassis this morning at the NTEA Work Truck Show. Freightliner says the new chassis model is the only one domestically engineered and the first in the industry to be completely all-electric (including a full HVAC system) in North America. The new chassis was developed in partnership with Enova Systems, a leading developer and producer of electric and hybrid-electric drive system technologies for commercial vehicle OEMs and is built on FCCC's MT-45 WIV chassis platform. According to FCCC officials, the chassis is powered by three batteries each producing 18.5 kilowatt hours of energy, which translates to a useful vehicle range of 100 to 110 miles per charge.
"We at Freightliner Custom Chassis feel the transition to electric vehicles is here and we will be a technology leader in this field," says Jonathan Randall, sales and marketing director at FCCC. "It is worth noting that we initiated our all-electric project well before stimulus money and federal grants were available for alternative-power transportation projects. FCCC viewed the all-electric project as the logical next step in its alternative-power product offerings, as well as a strategic opportunity to continue its leadership role in the WIV industry."
According the Randall, the new all-electric chassis enables fleet operators to virtually eliminate harmful emissions and cut operating and maintenance costs while delivering the performance and driver comfort features FCCC customers expect. On select delivery and service routes, he says, studies show that customers can save up to $15,000 per vehicle annually compared with traditionally powered walk-in vans.
In other NTEA news, FCCC also showcased its all-new gasoline-powered walk-in van chassis. The new chassis comes equipped with a standard Allison 1000/2000 Series transmission and General Motors 6.0-liter V8 engine, generating up to 320 horsepower range. This is the first time a 6.0-liter GM engine has been mated with an Allison 1000/2000 Series transmission.