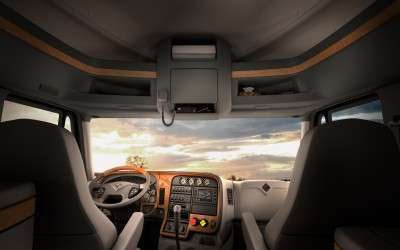 Navistar Inc., at a press event in Louisville, Ky., on Wednesday, March 24, introduced the new International ProStar+, which has improved aerodynamics and a nearly 1,300-pound weight reduction from the existing ProStar model. "Along with improving the truck's aerodynamics and reducing its curb weight, we've made a number of driver-friendly interior improvements," said Jim Hebe, Navistar senior vice president, North American sales operations.
The ProStar+ has a re-engineered overhead console that allows for easier reach and includes an in-cab paper towel dispenser. Storage has been improved, with the Hi-Rise model providing a 150 percent increase in captured storage and a 50 percent improvement in total storage. In-cab noise levels have been reduced 9 percent compared to last year's ProStar. Other driver satisfaction improvements include a 20-pound force reduction in clutch feel, providing easier shifting and less fatigue.
The ProStar+ offers new aerodynamic enhancements, including optional full-length chassis skirts for sleepers as well as a new cab roof air fairing for daycab models. Other new powertrain features are designed to improve fuel economy, including a clutched air compressor, variable speed fan, low viscosity engine oil and fuel-efficient rear axle lubricant.
The ProStar+ — powered by the Advanced EGR MaxxForce 11 and MaxxForce 13, which uses exhaust gas recirculation technology to comply with U.S. Environmental Protection Agency regulations — is 700 pounds lighter than its predecessor. When you include the MaxxForce 13, with its lightweight compacted graphite iron cylinder block, and MaxxForce Advanced EGR emissions technology, the ProStar+ has an additional 600-pound advantage versus the leading 15-liter engine, providing an extra 1,300 pounds of added payload capacity and fuel economy benefits.
In other news, Navistar introduced the ReStar reconditioning program for late-model Class 5-8 commercial trucks that analyzes, recommends and replaces key mechanical and aesthetic components based on the application, age and history of each truck. With a unique work order in hand, mechanics experienced in modifications and repair perform the customized overhaul at International Truck Specialty Center locations throughout North America. The result is a reconditioned truck with a refreshed look, reliable critical components and a life expectancy well into the future.
The ReStar program is available for most makes and models of commercial trucks — International brand trucks or those built by other OEMs — and is ideal for fleets wanting to extend the life of their vehicles while minimizing costly downtime, unexpected repairs and driver turnover. Potential customers wanting more information on ReStar can contact an International Truck Specialty Center at 800-641-4000.
Navistar also presented OnCommand by Navistar — a bundled approach to service and after-sales support offerings. OnCommand helps customers achieve more efficient repairs and maintenance, better lifecycle value and an overall lower total cost of ownership. The service includes online service manuals, preventive maintenance technologies, supply chain tools and technician training. "By bundling our current array of service and parts offerings under one umbrella, OnCommand will allow our customers easier access to critical vehicle, parts and training information to ensure maximum uptime," Hebe said.
Navistar also announced that MaxxForce big bore diesel engines offer four new performance ratings and a new MaxxForce Engine Brake by Jacobs, optional for all MaxxForce 11 and MaxxForce 13 models. The new ratings include two 450 hp MaxxForce 13 models—one that offers 1700 lb.-ft. torque and another with multitorque output of 1550/1700 lb.-ft. The other two new ratings include a 430 hp MaxxForce 13 with multitorque output of 1550/1700 lb.-ft. and a MaxxForce 11 rated at 365 hp and 1250 lb.-ft. torque. Top ratings remain at 475 hp and 1700 lb.-ft. torque for MaxxForce 13 and 390 hp and 1450 lb.-ft. torque for MaxxForce 11.
The optional MaxxForce Engine Brake by Jacobs provides a new level of braking power for the MaxxForce 11 and 13. Fully integrated with vehicle controls and anti-lock braking system, the three-stage compression-release brake offers maximum downhill braking performance from 351 to 398 braking hp at 1,900 to 2,100 rpm for the MaxxForce 11. For the MaxxForce 13, maximum downhill braking performance is 415 to 470 braking hp at 1,900 to 2,100 rpm.
Navistar also announced EPA certification for its 2010 MaxxForce 13 Advanced EGR engine, which powers the International ProStar+ line-haul tractor, International TranStar regional haul tractor and the International PayStar severe service truck.