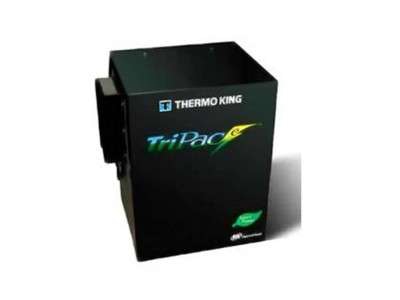 Thermo King Corp. introduced three products at a press event on March 25 in Louisville, Ky.: the TriPac Electric APU System, the T-1000 SPECTRUM Multi-Temp Unit for Trucks and the SmartPower High Output Electric Standby Option.
The TriPac Electric APU System is an electric auxiliary idle reduction and temperature management system designed to maintain comfortable temperature conditions in the truck cab without running an engine. Because it is battery- and not engine-operated, fuel and maintenance costs are significantly reduced.
The T-1000 SPECTRUM Multi-Temp Unit for Trucks is a self-powered multi-temperature unit with scroll compressor technology and is designed for operators who need more than one temperature zone in their truck.
SPECTRUM's SmartPower electric standby option along with its Advanced Fuel-Saving Control Technology provides fuel savings in all ambient conditions, hauling fresh or frozen. Its Tier 4 engine emits 38 percent less particulate matter and 54 percent less carbon monoxide than previous engines, the company said. The unit is available in a variety of two- and three-compartment configurations.
The SmartPower(TM) High Output Electric Standby Option provides customers the choice of a 24-hp high-output electric standby option or the existing 14-hp version. It delivers quicker pre-cool and less run time for customers hauling larger frozen loads, along with a greater overall cooling capacity, the company said.