White House clears EOBR rule
FMCSA still plans a second, broader regulation
A final rule mandating electronic onboard recorders for carriers that have a history of serious noncompliance with hours-of-service rules was one step closer to reality after the White House Office of Management and Budget cleared the measure on March 18. Details of the final rule weren't to be made public until the Federal Motor Carrier Safety Administration published the rule in the Federal Register, which was likely to happen after this issue of CCJ went to press. According to OMB's website, the White House had insisted on at least some changes to the rule that was submitted by the U.S. Department of Transportation.
As proposed in January 2007, the regulation also would incorporate new performance standards for EOBRs installed in commercial motor vehicles manufactured two years after the rule's effective date. Onboard HOS recording devices meeting FMCSA´s current requirements and voluntarily installed in CMVs manufactured before that date could continue to be used for the remainder of the service life of those CMVs. FMCSA had proposed to encourage industrywide use of EOBRs by providing certain relief from audit and recordkeeping practices.
FMCSA completed work on the rule during the Bush administration, but the White House failed to clear it before President Obama was inaugurated. A governmentwide review of pending rulemakings delayed the regulation, but DOT sent a final rule to the White House in December.
The EOBR issue isn't settled once FMCSA publishes this rule, however. The agency has said it will consider further expanding the number of motor carriers required to install EOBRs as part of a rulemaking that also will address supporting documents for HOS compliance. FMCSA says it will consider reducing or eliminating paperwork burdens associated with supporting documents in favor of expanded EOBR use. According to a monthly DOT report, FMCSA now plans to complete work on the EOBR/supporting documents proposal in July with publication in December.
Meanwhile, the American Trucking Associations has sued FMCSA to move forward with a supporting documents rule. One of the major concerns is the agency's decision in December 2008 to begin using satellite positioning data routinely in audits of driver logs. ATA argues that motor carriers' obligations for maintaining supporting documents should be clear and established by regulation.
Regulatory action on EOBRs comes as safety advocates and many in Congress are calling on mandatory EOBRs industrywide. For example, U.S. Rep. James Oberstar (D.-Minn.), chairman of the House Transportation and Infrastructure Committee, proposed a highway authorization bill last year that would mandate use of EOBRs in all CMVs subject to HOS rules.
For up-to-date information on the details and status of FMCSA's EOBR rulemaking, visit www.ccjdigital.com/eobr. –Avery Vise
In brief
* President Obama on March 18 signed into law the HIRE Act, which includes a $20 billion infusion into the Highway Trust Fund to keep it funded through the end of 2010.
* Truckload Carriers Association formally partnered with the National Association of Independent Truckers as part of an ongoing effort to help its members attract and retain professional drivers.
* The results from Transport Capital Partners' Business Expectations Survey of U.S. truckload carriers show continuing confidence in the year ahead, but one in four carriers still is considering leaving the industry over the next 18 months.
* The American Trucking Associations is seeking nominations for professional truck drivers to serve on the 2011-2012 America's Road Team and meet with the motoring public, the news media, students, transportation officials and government leaders to demonstrate the trucking industry's commitment to safety. Visit www.americasroadteam.com to learn more.
* UPS was ranked No. 9 among the Top 100 global companies selected for the first-ever Climate Innovation Index by Maplecroft, a U.K.-based research and consulting company that reports on sustainability-related risks.
* Trucker Buddy International announced that Mike Reilly, chairman, president and CEO of CCJ publisher Randall-Reilly, and Kate Miller, president and group publisher of Newport Communications Group, were elected to serve on its board of directors.
White House reviews limits on truck drivers' cell phone use
The U.S. Department of Transportation drafted a proposed regulation that would ban text messaging and restrict the use of cell phones while someone is operating a commercial motor vehicle. The White House Office of Management and Budget had received the proposal on March 18 and is reviewing it. Details of the proposal weren't set to be disclosed until the Federal Motor Carrier Safety Administration sent it to the Federal Register for publication, which was likely to happen after this issue of CCJ went to press. According to a monthly DOT report, White House review was expected to be swift, which potentially allowed for publication of the proposed rule by the end of March.
The proposed new restrictions on texting and cell phone use are among a series of steps DOT and its agencies have taken in response to growing worries over the impact of texting by drivers. In January, FMCSA issued regulatory guidance that interpreted existing regulations governing equipment allowed on trucks so as to prohibit texting. The prohibition, which carries a penalty of up to $2,750, did not address use of cell phones. In addition, DOT is proposing to write its texting ban into regulation rather than relying on interpretation of existing rules.
President Obama also signed an executive order prohibiting all federal employees from texting while driving. A recent study conducted by Virginia Tech found that a driver was 23 times more likely to have a safety-critical event while texting than a nondistracted driver. DOT held a summit on distracted driving at the end of September and launched the www.distraction.gov website to provide news and resources on the issue.
To learn how fleets are combating distraction in the cab, view and download CCJ's February 2010 Webinar, "Fighting Driver Distraction," at www.ccjwebinars.com/archives.html.
–Avery Vise
FMCSA launching pre-employment screening program
The Federal Motor Carrier Safety Administration's pre-employment screening program (PSP) is a screening tool designed to help motor carriers make more informed hiring decisions by providing electronic access to a driver's crash and inspection history from the FMCSA Motor Carrier Management Information System (MCMIS). Enrollment for PSP is available now at
Carriers and individual drivers can purchase driving records from FMCSA's MCMIS and access the last five years of crash data and three years of roadside inspection data. There is a $10 fee for each driver's history a carrier requests. An annual subscription fee of $100 also will apply. Carriers with less than 100 power units will qualify for a discounted annual fee of $25 per year. Individuals will be able to request a personal driving history for a fee of $10. No subscription is necessary for individual drivers.
FMCSA says the system will adhere to all federal security and privacy requirements to ensure the privacy and security of drivers' personal information.
TCA swears in new chairman
John Kaburick, owner and president of Earl L. Henderson Trucking Co., Salem, Ill., was sworn in as the 2010-11 chairman of the Truckload Carriers Association on March 3. From 2003-2007, Kaburick served as secretary/treasurer, vice chairman, chairman and immediate past chairman of TCA's Refrigerated Division. He has served on the board of directors since 1999 and has been a member of the Executive Committee since 2005.
During his year as chairman, Kaburick hopes TCA members and staff can focus on legislative issues that affect carriers such as the pending electronic onboard recorder regulation, Comprehensive Safety Analysis 2010 and sleeper berth regulation. He also recognizes that current economic conditions remain unstable, making it more difficult for carriers to stay afloat.
TCA also elected officers to serve until the next Annual Convention: First Vice Chairman, Gary Salisbury, Fikes Truck Line Inc.; Second Vice Chairman, Robert E. Low, Prime Inc.; Treasurer, Tom Kretsinger Jr., American Central Transport Inc.; Secretary, Keith Tuttle, Motor Carrier Service Inc.; and Association Vice President to ATA, Lance Craig, Craig Transportation Co.
CCJ wins Neal Award

The July 2009 cover story "The main event" received the American Business Media's Jesse H. Neal National Business Journalism Award in the category of best technical content.
Commercial Carrier Journal's coverage of the 2010 engine emissions regulations won a major business journalism award March 11. The July 2009 cover story "The main event" received the American Business Media's Jesse H. Neal National Business Journalism Award in the category of best technical content.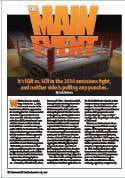 The article, written primarily by Executive Editor Jack Roberts, explored the various issues surrounding the choice of technologies to meet U.S. Environmental Protection Agency emissions requirements. Editorial Director Avery Vise contributed to the article and edited it along with Managing Editor Dean Smallwood. Winners of the Neal Awards were announced in New York.
"Jack's technical knowledge really comes through in this in-depth look at the often heated battle between two competing technologies," says Linda Longton, senior vice president of editorial and research for Randall-Reilly, which publishes CCJ. "We are extremely proud of Jack and the entire CCJ editorial team for their fine work."
Trucking employment down in February
The for-hire trucking industry lost 4,300 jobs in February, and the industry lost jobs in January rather than gained them, according to revised seasonally adjusted figures from the U.S. Department of Labor's Bureau of Labor Statistics. Preliminary data indicated that the industry had added 2,500 jobs in January; instead, the latest figures show that jobs were almost flat from December at a 200-job decline. Payroll employment had dropped by 12,000 jobs in December.
Trucking employment in February was down nearly 81,000, or 6.2 percent, from February 2009. Preliminary data showed payroll employment of almost 1.23 million jobs – down 226,400, or 15.6 percent, from the trucking employment peak in January 2007. The BLS numbers reflect all payroll employment in for-hire trucking, but they don't include trucking-related jobs in other industries, such as a truck driver for a private fleet.
Nationwide, the economy lost 36,000 jobs in February, and the labor force was down 3.3 million, or 2.5 percent, since February 2009. n