Revving up Cash Flow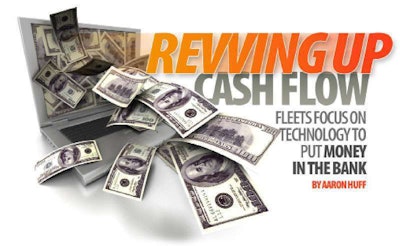 Fleets focus on technology to put money in the bank
A decline in revenue, an increase in fuel prices, a credit freeze or a slow-paying customer – all of these problems strain cash flow. For many troubled carriers, these pressures – difficult enough to handle one at a time – have converged for more than a year now, causing a liquidity crunch. The pressure is even more intense for companies that depend on credit to pay for fuel and other operating costs before customers pay invoices.
"Banks have tightened down," says Gary Salisbury, president and chief executive officer of Fikes Truck Lines, a 100 percent owner-operator fleet of 350 trucks. "Credit is almost nonexistent unless you give them a pint of blood."
Accounts receivable turnover, or days sales outstanding (DSO), is measured from the time most carriers realize revenue — the date of delivery — to when payment is received. For many carriers, DSO averages more than 45 days. About eight years ago, Fikes was sending invoices to customers as long as 10 days after drivers were making deliveries. Drivers for the Hope, Ark.-based carrier were mailing bills of lading and other documents once a week to meet the company's Monday cutoff for settlements.
To speed billing, Fikes began using overnight dropbox and scanning services from Affiliated Computer Services (ACS) TripPak; Fikes since has added TripPak Truck Stop Scanning. Some drivers now are using TripPak In-Cab software on personal laptops to send documents immediately after delivery. With these systems in place, Fikes is able to bill all of its 1,000 loads per week within 24 hours of delivery. "We took DSO from 35 to 40 days down to 24 to 25 days," Salisbury says.
Transportation is rife with paper documents, but that doesn't mean paper has to impede cash flow. Many fleets are capturing images and data remotely and using the real-time integration and automation tools of their document management systems to accelerate cash flow and reduce administrative costs.
Enterprise imaging
The early versions of document imaging systems sped the filing and retrieving of billing, payroll and other documents related to overhead, but many of the delays, inaccuracies and inefficiencies of managing paper documents remained. By comparison, fleets using the latest document management systems are able to leverage a variety of applications and services to automate the capture of remote documents and process invoices automatically.
In April 2008, RT&T Enterprises implemented McLeod Software's DocumentPower Enterprise document management system. In less than a year, the Dubuque, Ill.-based company reduced its DSO from 47 to 21 days on average.
RT&T operates 70 trucks, about 90 percent of which are owner-operators. Prior to using the McLeod system, drivers mailed trip documents to the office. The majority of these documents arrived on Wednesday to meet the company's weekly cutoff date for payroll and settlements. In turn, the company was scrambling to process invoices by Friday and pay drivers the following week. And RT&T was billing customers up to 10 days after delivery and using a $500,000 revolving credit line to operate.
Soon after installing DocumentPower, the company began using truckstop scanning. With drivers scanning their documents, images were in the McLeod system within 24 hours of delivery. With this integration, RT&T achieved a steady workflow in billing and a vast improvement in accuracy. "We also moved payroll ahead one full week," says Todd Colin, president.
Paying drivers one week earlier played a significant role in reducing driver turnover by 50 percent. Overall, Colin estimates the McLeod system created savings of $136,000 in the first year, including more than $27,000 in interest by accelerating cash flow enough to end its dependence on a credit line.
In October 2008, Santa Rosa, Calif.-based Rich Doss Trucking implemented TMW Imaging software in conjunction with a new enterprise software system, TruckMate from TMW Systems, to streamline its dispatch and accounting. The less-than-truckload flatbed company, comprised of 60 company trucks and 40 owner-operators, realized immediate savings by e-mailing and faxing its invoices to customers, cutting office expenses by $2,500 a month.
Rich Doss Trucking also now is able to initiate its billing process at pickup. TruckMate initiates an invoice when a unique PRO tracking number is assigned to each shipment and entered into the system. Drivers carry PRO labels with them and stick the labels on the bills of lading they receive from the shipper. "As soon as we get a PRO number, we scan the document the next day," says Adam Doss, president.
When a document is scanned, the TMW Imaging system reads the PRO label with barcode recognition technology. A clerk indexes the document and completes the bill, and the system e-mails or faxes the invoice with the accompanying paperwork to the customer.
Auto indexing
Many fleets use forms recognition technology to speed invoicing, reduce errors and minimize labor. Forms recognition uses optical character recognition (OCR) to identify each document by type — bill of lading, weigh ticket, receipt, etc. — regardless of where the document originally is scanned.
EBE Technologies' Ships platform contains a suite of document imaging and integrated management workflow applications for every department within a trucking operation. Auto Billing, a feature within the Ships Financial module, uses OCR technology to index images immediately as they arrive from truckstops, in-cab scanning and other sources.
Once the documents are indexed, Auto Billing also can update the load status in a dispatching system for delivery. With Auto Billing, users index only the documents that the system cannot identify with 100 percent confidence, which is about 15 to 20 percent of the total, says Larry Kerr, EBE president.
Fleets also can use Auto Billing to trigger an automatic invoice. Modern Transportation, a Pittsburgh-based bulk carrier with 400 drivers, has used EBE Ships Auto Billing for three years. After drivers deliver a load, they enter the BOL number and payload weight from the document into the PeopleNet onboard computing system. This information is transmitted wirelessly to the company's dispatch software.
Drivers turn in the paper copy of the BOL at one of the company's 20 terminals. When the documents are scanned, Auto Billing captures the BOL number and net payload from the image. If the software can't read the information or if the numbers don't match what the driver entered, the images enter an exception queue for a clerk to process manually. By using the EBE system, Modern Transportation has reduced DSO by about five to seven days, resulting in a significant impact on cash flow.
Communicating with drivers
Considering the technology available to automate document processing quickly and accurately, a fleet's biggest challenge may be getting drivers to scan their paperwork promptly.
Baylor Trucking, a dry van truckload carrier, gives drivers a variety of options to turn in trip documents, including TripPak drop boxes, TripPak Truck Stop Scanning, Pegasus Truck Stop Scanning and Pegasus Terminal Scanning at all Baylor locations. The Milan, Ind.-based company also is piloting in-cab scanning.
Through the integration of its billing and onboard computing systems, Baylor Trucking created a Qualcomm macro auto-messaging program to remind drivers twice a week of any paperwork they have not submitted yet. With this tool, the company decreased missing weekly documents by 75 percent. "Using technology, we can reiterate all the focuses of the company, including finance — not just the regular driver themes of safety and service," says Cari Baylor, director of sales and information technology.
At Chattanooga, Tenn.-based U.S. Xpress, drivers must submit their paperwork for loads to be paid. The 5,400-truck company – which uses a variety of document management systems and services from Pegasus TransTech – recently began sending reminders directly to the driver's cab if paperwork is not received within seven days. U.S. Xpress shortened its invoice cycle time by two days as a result of implementing the scanning technology and new workflows. "The net result is a reduction in a company's working capital requirements," says Eric Peterson, controller.
In-cab scanning
Today's communications methods between office and cab offer increased bandwidth, enabling more options as hardware and storage costs continue to drop, such as sending high-quality images from the cab to the office.
RT&T Enterprises soon will purchase the DriverTech DT4000 TruckPC onboard computing platform for both company vehicles and owner-operators. RT&T will be using DriverTech's in-cab scanning system, DTScan, with the expectation that drivers will send proof-of-delivery documents before they leave the delivery location.
Today's modern systems automate remote document capture and invoice processing.
With this technology integrated into the company's McLeod imaging software system, RT&T plans to send customers invoices within two hours of delivery. With the accelerated cash flow, RT&T should be able to pay drivers the same week they deliver, or possibly even two payrolls per week, Colin says.
Qualcomm Enterprise Services offers an in-cab scanning service for its Mobile Computing Platform (MCP) 100 and 200 series. Once drivers scan documents, fleets can access the data one of four ways: an HTTP portal, e-mail, FTP and Web services that allow users to build additional business logic for integration with back-office systems.
PeopleNet, a provider of Internet-based and integrated onboard computing and mobile communications systems, last month announced a partnership with ACS to provide in-cab imaging for the PeopleNet BLU in-cab PC. The new offering, In-Cab Scanning Powered by ACS, leverages ACS' document management infrastructure with PeopleNet's fleet dispatch systems and integrated Pacos geofencing and automated messaging.
When a driver arrives at a stop, he scans the proof-of-delivery and other documentation specific to the stop. The location, trip information (i.e. load number), stop name and arrival time are generated through Pacos, eliminating manual labor by the driver and clerks in the office.
ACS also offers a simple-to-use scanning application, TripPak In-Cab, where drivers download the application to their personal laptops and buy a scanner. After drivers scan and transmit documents, they can view them online by using the confirmation number they receive.
With the convenience of scanning stations at company terminals, truckstops and in the cab, fleet executives and managers now expect to bill customers the same day as delivery, or at most the next day. "Cash is king," says Fikes' Salisbury. "That's all we do is run on cash." n
Mobile scanning from the dock
New apps available from Intermec, ACS
New technology takes capturing images beyond the office or cab and makes it a truly mobile and dynamic activity. With the release of its latest Windows mobile computers, the CN50 and CN4, Intermec created a utility called Enhanced Mobile Document Imaging (eMDI) to automate the entire document collection process from the time a driver steps onto the customer's dock to make a delivery.
The driver simply points the CN50 or CN4 computer at a document. The computer's imager projects a laser guide onto the surface that helps the driver adjust the height of the scanner to fit the borders of the document he wishes to capture. Drivers also index the image by selecting the document type from a dropdown menu. The image then is routed to the office through high-speed communications along with other delivery details — truck number, time, location, etc.
Affiliated Computer Services (ACS) is using uFollowit's smartphone technology to provide drivers a convenient means of capturing documents from anywhere. The new application, TripPak Mobile, uses a smartphone camera and specially designed clipboard to capture and send high-quality images of paperwork through the ACS TripPak processing portal, which records the image and forwards it to the fleet for processing.