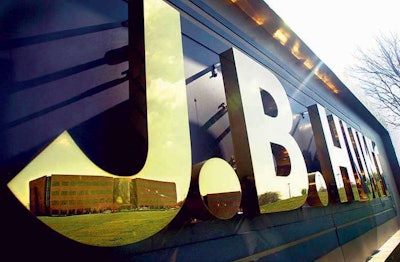 J.B. Hunt Transport Services on Wednesday, April 14, announced first-quarter 2010 net earnings of $37.5 million compared to first-quarter 2009 earnings of $30.8 million. Total operating revenue was $845 million, a 17 percent increase from $723 million, primarily attributable to higher Intermodal segment volumes, significant growth in the Dedicated Contract Services (DCS) segment, higher volumes in the Integrated Capacity Solutions (ICS) segment and revenue growth in the Truck segment. Current quarter operating revenue, excluding fuel surcharges, increased 11 percent.
Operating income increased to $67.4 million from $57.0 million primarily due to a 21 percent increase in Intermodal volumes, positive Truck operating income compared to a $5.8 million loss last year and improved DCS operating results. Operating income and net earnings grew despite significantly lower base freight rates. The effective income tax rate was slightly higher this year compared to last ear's first quarter.
"The freight recession we have experienced for over three years showed signs of yielding to moderate volume improvements throughout the current quarter," said Kirk Thompson, president and chief executive officer of Lowell, Ark.-based JBHT. "We believe that this is partly attributable to increases in our customers' supply chain activities and partly due to a continued shrinkage of viable capacity."
Thompson said spot market rates increased in the current quarter, another sign of improving transportation economics, which historically has led to improved contract rates. "We remain committed to achieving reasonable returns on our capital through systematic and intelligent investment in activities that deliver outstanding value to our customers," he said.
Thompson said Intermodal continued its expansion into the eastern network at a brisk pace, and double-digit growth returned to the more mature western network. "DCS implemented the final seven locations out of a total of 87 for our nationwide final mile delivery network," he said. ICS growth and margins were constrained as carrier supply tightened before freight rates recovered.
"We believe freight rates will continue to correct and remain confident in our ICS model going forward," Thompson said. "The Truck business made solid progress on continued efforts to reduce cost and improve utilization. While the pace of the broader macro economic recovery may be debatable, our current-quarter results reflect a positive trend in the freight economy."