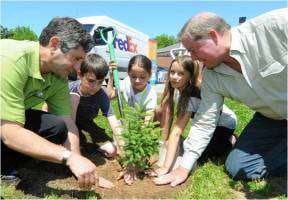 FedEx Ground as been awarded an Oregon Brownfield Award for the work done in transforming a former brownfield site in Troutdale, Ore., into a $129 million package sortation hub set to open in the late summer. The third annual award was presented April 6 at the 2010 Oregon Brownfields Conference sponsored by Business Oregon and the Oregon Department of Environmental Quality.
The new FedEx Ground hub is located on 78 acres within the Port of Portland's 693 acre Troutdale Reynolds Industrial Park that once was the home of a Reynolds Metals aluminum smelter. The first occupant in the industrial park, FedEx Ground is returning a once contaminated parcel to productive use.
"We view the new Troutdale hub as a win-win for us and the community at large because a site that was unproductive for years will soon be home to a 400,000-square-foot state-of-the art operation," says John Hiltz, vice president of the western region for FedEx Ground. "At FedEx Ground, we are committed to meeting customer expectations at every turn and to providing our work force the safest possible working environment."
FedEx Ground faced several construction challenges in developing a property with prior contamination. Most notable was building the facility above grade on a network of 1,700 piles driven 65 feet into the ground. FedEx also pressure-tested the stormwater system to ensure structural integrity and conformance with an existing groundwater remediation system. The company worked closely with the Port of Portland, the city of Troutdale, Oregon Department of Environmental Quality and U.S. Environmental Protection Agency.
The hub, which is in the final stages of construction, is scheduled to open in August and is expected to eventually have a work force of more than 1,000 people, including part-time and full-time employees as well as independent contractors and their employees.