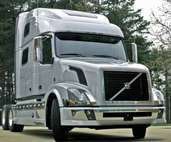 The most tested products in the history of Volvo Trucks North America, Volvo heavy-duty engines for 2010, are delivering excellent performance, reliability and fuel economy for customers, the company announced Thursday, April 15. More than 150 customers and dealers attended the "Volvo Power Summit" at the Volvo Powertrain plant in Hagerstown, Md., on April 7 to see for themselves.
As a result of Volvo's extensive testing program and a $150 million investment in engine development, testing and assembly facilities in Hagerstown, the Volvo D11, D13 and D16 engines deliver up to 5 percent better fuel economy than the previous generation of engine technology with near-zero emissions, the company says.
"We wanted our customers to come away from this event fully confident that Volvo Trucks' EPA 2010 technology will get the job done," says Ron Huibers, senior vice president of sales and marketing. "We've shown repeatedly that Volvo is ready. In fact, Volvo has been building production trucks with EPA'10 technology for almost six months now. We have hundreds in daily operation with customers – customers who are reaping the benefits of Volvo's proven selective catalytic reduction emissions control and our industry-leading engine technology through fuel savings, improved performance, excellent reliability and our integrated powertrain strategy."
Customers across the United States and Canada can get information about Volvo's U.S. Environmental Protection Agency 2010-comliant technology through the "Driving Success Tour," which will visit Volvo Truck dealerships across the continent, beginning on the West Coast in early May. For more information, go to www.volvotour2010.com.