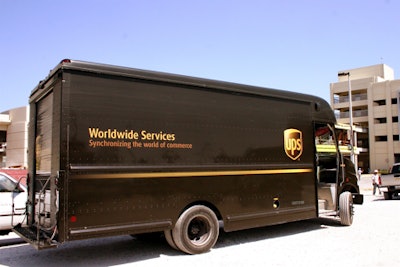 UPS announced Thursday, April 15, that it now offers its customers an assessment of its shipment packaging based on environmental standards. Under the Eco Responsible Packaging Program, UPS will evaluate a customer's packaging processes in three areas of sustainability: damage prevention, right-sizing and packaging materials. UPS will score the results, and those customers who meet the requirements can display the program's logo on their shipment packaging.
"Our engineers have always directed our customers to use the right kind of packaging to protect their goods," says Bob Stoffel, senior vice president of engineering, strategy, supply chain and sustainability for Atlanta-based UPS. "This service gives our customers a new way to demonstrate that they are serious about sustainability when it comes to shipment packaging."
The evaluation will assess the customer's transport packaging systems and procedures, rather than product packaging found on retail shelves. The contractual-based service is available to customers who commit to sustainable packaging solutions. Pricing is determined on a project basis. The program is conducted by the UPS Package Engineering Group. For more information, go to www.ups.com/ecoresponsible.