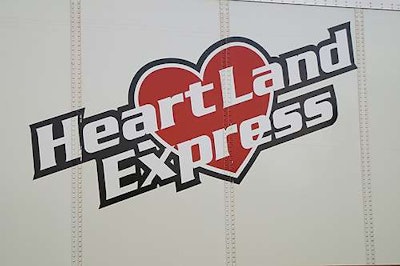 Heartland Express Inc. on Monday, April 19, announced financial results for the quarter ended March 31, 2010. Operating revenues increased 0.6 percent to $115.6 million from $114.9 million in the first quarter of 2009. Net income was $11.9 million compared to $14.1 million, a 15.9 percent decrease. Operating income was impacted negatively due to decreased gains on disposal of property and equipment and increased depreciation expense primarily attributable to the purchase of new tractors during 2009. For the quarter, the company posted an operating ratio (operating expenses as a percentage of operating revenues) of 86.3 percent and a 10.3 percent net margin (net income as a percentage of operating revenues).
The North Liberty, Iowa-based company said operating revenues for most of the quarter continued to be impacted by lower freight demand due to overall economic conditions and the related pressure on freight rates, but by quarter-end, there were signs of improvement evidenced by increased freight demand, tightening capacity and stabilizing freight rates. While the company is uncertain if these trends will continue throughout the year, it is positioned to add capacity and increase utilization to take advantage of increased shipments if the growth in the truckload marketplace is sustained.
The company ended the quarter with cash, cash equivalents, short-term and long-term investments of $230.5 million, a $30.1 million increase from the $200.4 million reported at Dec. 31, 2009. Net cash flows from operations continue to be strong at 24.8 percent of operating revenues. The company's balance sheet continues to be debt-free with total assets of $565.5 million. The company ended the past four quarters with a return on total assets of 10.0 percent and a 15.5 percent return on equity.
The average age of the company's tractor fleet was 1.6 years as of March 31, 2010. This is one of the newest and most fuel-efficient fleets in the industry. The company anticipates the purchase of new 2011 International Pro Star tractors with delivery anticipated to begin in the second quarter, which positions the company to take advantage of growth opportunities as the economy improves. In addition, the company says it will benefit from increased fuel efficiency as it continues to replace the remainder of the 2007 models in its fleet.