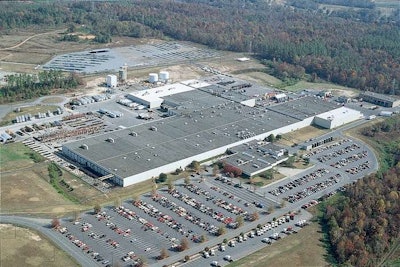 Daimler Trucks North America on Sunday, April 18, announced new three-year collective bargaining agreements for three of its U.S. manufacturing plants in North Carolina. The contracts, which are effective today, April 19, cover employees in the company's Mt. Holly and Cleveland Truck Manufacturing Plants, and Gastonia Components and Logistics Plant. Plant workers in all three facilities are represented by the United Auto Workers.
Tentative collective bargaining agreements for all three locations were reached on April 10 following five-and-a-half weeks of team-based negotiation between company management and committees of Local, Regional and International union leaders. The three tentative agreements were ratified by Local Bargaining Unit membership in separate meetings on April 17th and 18th. Previous contracts originally were set to expire April 9 but were extended through April 18 pending the formal ratification of the new agreements by the union membership.
In response to continuing economic and industry challenges, the new contracts for the Mt. Holly and Cleveland facilities include baseline production commitments that will provide job stability and security for plant employees. Employment levels will increase significantly at both facilities, although specific ramp-up plans remain under development. Both plants will continue operating with one shift. Agreements for each of the three facilities also include numerous negotiated provisions that will enhance scheduling flexibility, improve efficiency and reduce operating costs.
"We view these agreements as a significant milestone in securing our U.S. production footprint," says Martin Daum, president and chief executive officer of Daimler Trucks North America. "We would like to express our sincere appreciation to the UAW leadership and to our employees at all three locations for their commitment to the negotiation process. Together, we dealt with many difficult but necessary issues in a realistic and constructive way, and we look forward to continuing a productive partnership. The new agreements required compromise and sacrifice on both sides but will help position us to compete successfully on a global level in years to come."
The Mt. Holly Truck Manufacturing Plant, which manufactures medium-duty Freightliner trucks, currently employs 140. The Cleveland Truck Manufacturing Plant, which manufactures Freightliner brand heavy-duty trucks, currently employs about 830. The Gastonia Components and Logistics Plant, which manufactures truck parts and components for use in DTNA manufacturing plants, currently employs about 670.