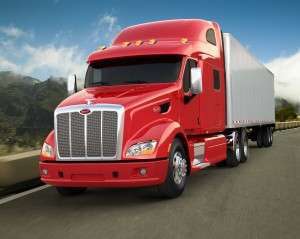 Peterbilt Motors Co. on Wednesday, April 21, announced its North American Tour featuring the new Paccar MX engine and new Model 587. The tour will launch April 26 and will stop at 77 Peterbilt dealer locations throughout the United States and Canada over the next six months. The tour schedule and locations are available at www.peterbilt.com/newsdetails.aspx?id=288.
The tour features the new Paccar MX engine, which showcases the company's engine development and engineering innovation and is the only commercial diesel engine to use lighter, stronger Compacted Graphite Iron (CGI) in both the cylinder block and head. The engine utilizes fractured cap technology in both the connecting rods and main bearing caps to provide high shearing strength which results in a wide horsepower range and longer torque and power curves for more efficient operation.
Beginning summer 2010, the Paccar MX – which has accumulated more than 50 million test miles and has more than 125,000 units operating globally in advance of its North American launch – will be available in Peterbilt Models 587, 388, 386, 384, 367 and 365, and is available with a power range of 380-485 hp and torque outputs up to 1,750 lb.-ft. with a displacement of 12.9 liters. The company says this power range – combined with excellent fuel efficiency, high reliability, durability, lightweight design and low cost of ownership – makes the MX an ideal choice for both over-the-road and vocational applications.
"Pairing Peterbilt's new aerodynamic flagship model 587 with the new Paccar MX provides an unparalleled combination of industry-leading quality, fuel efficiency, exceptional reliability and proven performance," says Bill Jackson, Peterbilt general manager and Paccar vice president.
The tour will highlight the readiness of the Peterbilt dealer network to provide exceptional parts and service support for the Paccar MX engine. There are 674 authorized Peterbilt and Paccar service locations across North America that are certified in the latest technologies and cutting-edge diagnostic tools to service and support the Paccar engine family. Additionally, Paccar operates eight parts distribution centers in North America and provides engine technical support 24/7, 365 days a year.
"The Peterbilt North America Tour was designed to showcase the power, performance and fuel efficiency of the new Paccar MX and share the excitement about its launch with Peterbilt customers and dealers across the United States and Canada," Jackson says.
Leading Peterbilt's North American Tour is the new SmartWay-certified Model 587, which features advanced aerodynamic performance, improved visibility, forward lighting and maneuverability. U.S. Environmental Protection Agency SmartWay certification offers customers fuel savings, lower greenhouse gas emissions and significant reductions in NOx, particulate matter and other air pollutants.
The Model 587 is standard with front air disc brakes. It also features the Bendix Wingman ACB – Active Cruise with Braking system to enable truck operators to maintain a safe following distance behind a forward vehicle through proactive warnings and active interventions.
Also featured on the tour are advanced developments in truck telematics and infotainment with Peterbilt's new SmartNav system, which the company says provides drivers a new realm of safety, vehicle awareness and control via navigation, vehicle diagnostics, communication and entertainment technologies, all in a touchscreen-operated unit customized for the trucking industry. The tour also features interactive displays that highlight new safety innovations such as Bendix ADB22X air disc brakes, the Bendix ESP full-stability control system and Bendix Wingman ACB Active Cruise with Braking.
"We are very pleased to join Peterbilt, one of our trusted OEM partners, in such an exciting event," says Joe McAleese, president and chief executive officer of Bendix Commercial Vehicle Systems. "The tour offers us another opportunity to talk with our customers throughout North America, offering them hands-on experience with the industry-leading air disc brake and active safety technologies from Bendix."