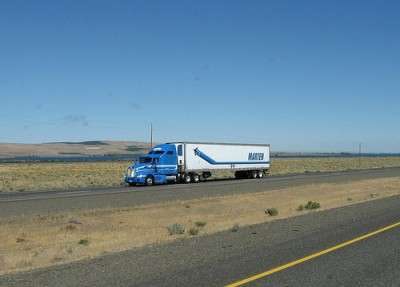 Marten Transport on Tuesday, April 20, reported net income of $3.9 million for the first quarter ended March 31 compared with $4.1 million for the same quarter of 2009. Operating revenue, consisting of revenue from truckload and logistics operations, increased 3.2 percent to $125.8 million from $122.0 million primarily due to increased fuel surcharge revenue, which reflects higher fuel prices in the 2010 quarter, and increases in logistics revenue. Operating revenue, net of fuel surcharges, decreased 2.4 percent to $108.5 million from $111.2 million; operating revenue included fuel surcharges of $17.3 million for the first quarter of 2010 compared with $10.8 million in the 2009 quarter.
Operating expenses increased 3.6 percent to $118.8 million from $114.7 million, primarily due to increases in fuel and fuel taxes and purchased transportation. Fuel and fuel taxes increased 26.2 percent to $27.6 million from $21.9 million, primarily attributable to higher fuel prices in the 2010 quarter. Purchased transportation increased 22.0 percent to $27.8 million from $22.8 million, primarily the result of the increase in Marten's broker and intermodal business. Operating ratio (operating expenses as a percentage of operating revenue) increased to 94.4 percent from 94.1 percent.
"Despite turmoil in the economy and the exceptionally difficult freight environment, particularly beginning with the second half of last year, we were able to continue our profitable results through disciplined execution of our transformational business strategy," said Randolph L. Marten, chairman and chief executive officer of the Mondovi, Wis.-based company. "As the trucking industry begins to experience some slight volume improvements, we believe that we are well-positioned with our ongoing transformation into a multifaceted business model focused on growth in our regional, intermodal and brokerage business services."
Logistics revenue, net of intermodal fuel surcharges, grew to $27.6 million, an increase of 21.7 percent from $22.7 million. Logistics revenue consists of revenue from the company's internal brokerage and intermodal operations and revenue associated with its 45 percent interest in MW Logistics, a third-party provider of logistics services.