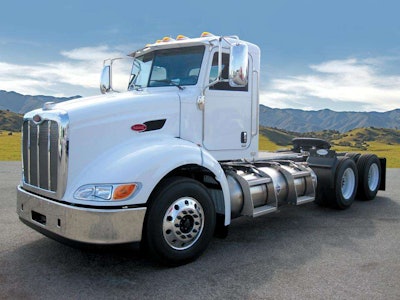 Hundreds of commercial truck dealers from across the country convened in Orlando, Fla., over the weekend for the American Truck Dealers Convention & Expo. After nearly two years of lackluster sales, dealers say they're "optimistic" and looking forward to brighter days ahead.
"We're meeting the economic challenges of our time," says Pamela Hall, ATD convention chairwoman and dealer-owner of Hall Volvo, GMC, Isuzu and Hino in Tyler, Texas. "But we're moving into the future with many legislative and regulatory challenges facing our industry."
Convention keynote speakers included ATD Chairman Kyle Treadway; Dennis Slagle, president and chief executive officer, North American Trucks (Volvo and Mack); Jim Meil, economist for the Eaton Corp.; and Dan Baker, a nationally known speaker, teacher and consultant to the truck industry. The three-day conference ends today, April 26, at the Gaylord Palms Resort and Convention Center.
"There's a light out there, but it's dim," says dealer Jim O'Halloran of O'Halloran International in Des Moines, Iowa, referring to his business operations. "Fixed operations has picked up. Today, our customers are fixing their trucks, but we don't expect new truck sales to pick up until the fourth quarter. Used truck sales are starting to pick up, but the supply is diminishing because of fewer trade-ins."
ATD directors and dealer council members met with manufacturing representatives to discuss a myriad of issues, including legislative and regulatory challenges. "The economy has started to turn," says Ron Remp, president of Wheeling Truck Center in Wheeling, W.Va. "There's a feeling of optimism. That's fueled by an increase in used truck activity and parts and service sales."
The Peterbilt Model 384 and Hino 268 and were named as winners of the ATD Commercial Truck of the Year for 2010. The award recognizes one winner from the medium-duty truck category (classes 3-7) and another from the heavy-duty truck category (class 8).
"All the trucks in this year's event were fine examples of the great strides the manufacturers have been making in developing new products," Hall says. "The winners brought the best combination of new features, driver comfort and safety systems." The trucks were judged on innovation and design, driver satisfaction, ease of maintenance and safety, Hall says. The winners were chosen by a panel of journalists from leading truck publications in North America.
Peterbilt says the Model 384, which was selected due to its superior design and features, offers unparalleled customer value and includes new proprietary aerodynamic features to maximize fuel efficiency and contemporary interiors for more efficient operation. The truck maker says the Model 384 is its most versatile performer, ideal for regional, short- and long-haul routes, with the power to handle the heaviest payloads.
"Peterbilt is honored to be selected as ATD's Commercial Truck of the Year," says Bill Jackson, general manager of Peterbilt Motors Co. and Paccar vice president. "Our team listens to the voice of the customer along with our dealer network, and works with our supplier partners to design and manufacture trucks that offer value, innovative features and exceptional maneuverability for a wide range of applications."
The Model 384, recognized as fuel-efficient and environmentally friendly by the U.S. Environmental Protection Agency's SmartWay program, also is offered with natural gas configurations as an environmentally friendly power platform. The Model 384's aerodynamic package is designed to provide fuel efficiency gains of up to 12 percent and drag reduction of 24 percent.
The lightweight, powerful Model 384 features a 116-inch BBC and a full range of heavy-duty suspension, brake and drivetrain options suited for tanker, pickup-and-delivery and short-haul applications. Additionally, the Model 384 is available with Peterbilt's SmartSound package that provides a comfortable environment for the driver with both acoustic and thermal insulating properties. A paramount benefit of the new package is a reduction of noise by up to 50 percent.
The medium-duty contest was new for 2010. "We are honored to be the first recipient of the ATD medium-duty Commercial Truck of the Year award," says Sumio Fukaya, president and CEO of Hino Motors Sales U.S.A., Inc. "This is a true testament to the hard work of our design team and their efforts to produce a truck that meets the demanding needs of our customers."
Other nominees in the medium-duty class were the Kenworth T370 Diesel-Electric Hybrid, Freightliner Business Class M2 112 Natural Gas and Peterbilt Model 337. The other heavy-duty truck nominees were the Kenworth T660 Extended Day Cab and Freightliner Coronado. Last year, the International LoneStar was named ATD Commercial Truck of the Year in the heavy-duty category.
Commercial truck dealer John "Jack" Saum of Maryland was named the American Truck Dealers Truck Dealer of the Year. The award recognizes excellence in dealership performance, industry leadership, civic contributions and community service. The winners were chosen by a panel of professors from Indiana University's Kelley School of Business. Robert Nuss, president of Nuss Truck & Equipment in Rochester, Minn., was named runner-up.