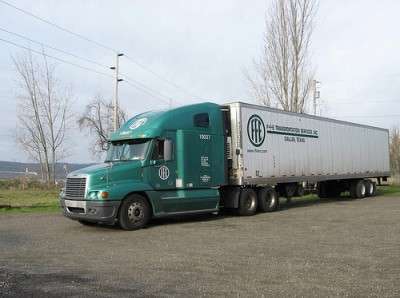 Frozen Food Express Industries Inc. on Tuesday, May 4, announced its financial and operating results for the first quarter ended March 31, 2010. Operating revenue excluding fuel surcharges decreased 11.7 percent to $73.3 million from $83.0 million in the first quarter of 2009. Total revenue fell 6.9 percent to $85.8 million from $92.2 million. Operating expenses were $91.4 million, a reduction of $9.3 million. The company reported an operating ratio of 106.5 percent compared to 109.2 percent.
The company incurred a pre-tax loss of $5.7 million and an after-tax loss of $3.7 million compared to a net loss of $6.1 million. Although an improvement over 2009, the company said the first-quarter loss was primarily a function of the continuing weakness in the economy as well as extremely poor weather conditions in January and February.
"The first quarter of 2010 started off with the potential to be a repeat of 2009," said Stoney M. ("Mit") Stubbs, chairman and chief executive officer of Dallas-based Frozen Food Express. "A combination of anemic freight activity and severe storms in January and February stemmed our momentum coming out of the fourth quarter of 2009. Fortunately, March rebounded with strengthening freight activity, despite continued poor weather."
Stubbs said increased shipper demand, shrinking capacity and improving freight yield allowed the company to regain its momentum and improve its operating results by $3.1 million compared to the first quarter of 2009. "We are proud of our employees for their commitment to make 2010 a successful year," he said. "The results of the first quarter prove the steps we made in 2009 to develop a lean, efficient organization have continued to provide results in 2010."
Stubbs said the first quarter of each year traditionally has been the company's toughest operating challenge. "This year is no different," he said. "However, with the momentum we have built in March, through a commitment to excellent customer service and pricing discipline, we expect a continuation of improved results. We also remain committed to investing in technology designed to improve our operational efficiency and customer service capabilities."
Despite the operating loss for the quarter, Stubbs said tthe company remains in a strong cash position with no borrowings outstanding under its revolving credit agreement. The Company generated cash flows of $5.6 million from operations and investing activities and had a $9.3 million balance in cash and cash equivalents, $86.4 million in shareholders' equity and no outstanding debt.
"I am proud of the steps we have taken in managing our business to combat the economic realities in the short term, while developing long-term plans in preparation of the eventual recovery of both the overall economy and the transportation industry," Stubbs said. "We experienced increased demand for our services in March, which allowed us to increase our capacity to enjoy additional freight revenue.
"Because of the initiatives undertaken and a sensible management approach during these turbulent times, I believe we are well positioned to enjoy the benefits of an economic recovery. However, we will remain prudent with our strategic decisions, remaining focused on our commitment to winning business through an excellent service product, making pricing decisions that allow a positive return on assets, and continuing our long history of maintaining a strong balance sheet and cash position."