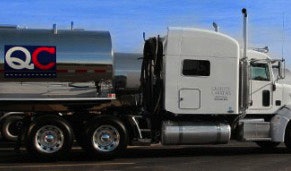 Quality Distribution Inc. on Wednesday, May 5, reported the results for its first quarter ended March 31. Total revenue was $161.3 million, an increase of 7.7 percent from $149.7 million for the same quarter in 2009. Revenue excluding fuel surcharge was $143.8 million, an increase of 3.7 percent from $138.6 million. Net income was $0.8 million compared to a net loss of $0.3 million.
"We are very pleased to report year-over-year revenue growth for the first quarter," said Gary Enzor, chief executive officer of Tampa, Fla.-based Quality Distribution. "Higher volumes, coupled with a leaner cost structure, yielded positive first-quarter earnings for the first time in four years. We are committed to growing organically. We have built a strong network of affiliates who have the infrastructure necessary to support additional growth as demand continues to increase."
Enzor said Quality Distribution on May 1 added F.T. Silfies to its affiliate network. Silfies, a dry bulk carrier with annual revenues of about $20.0 million, operates primarily on the East Coast. "We will also continue to look for synergistic opportunities to grow our company through acquisitions," he said.
Steve Attwood, chief financial officer, said that in addition to positive revenue and earnings results, availability under the company's ABL facility at the end of the first quarter was $54.1 million, an improvement of $11.1 million from the end of the first quarter last year. "Our business model continues to evolve," Attwood said. "Now that we have affiliated trucking operations and significantly reduced our cost structure and capital expenditure requirements, our focus is squarely on driving top-line profitable growth."