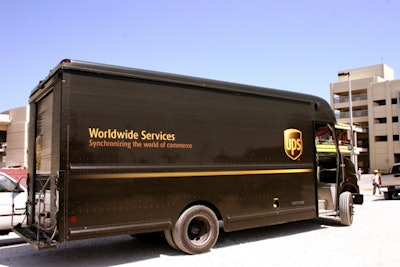 UPS announced it has formed a strategic alliance with AliExpress, a new online wholesale marketplace launched by Alibaba.com, the world's largest small business e-commerce company. Also, the company's shareowners on Thursday, May 6, elected a board of directors for a one-year term and ratified the appointment of Deloitte & Touche as the company's independent registered public accountants for 2010; both votes were ratified by a wide margin.
AliExpress allows customers to tailor orders to the needs of their small businesses, offering smaller-quantity orders, instant online transactions and an escrow service to protect buyers and sellers.
Through its alliance with UPS, AliExpress now offers users the key benefit of managing their shipping and tracking processes online via UPS shipping technology integrated into the AliExpress platform, including the ability to print UPS shipping labels and request pick-up for their UPS packages all from within the AliExpress website.
"Our partnership with UPS is crucial to the success of AliExpress, as one of our main goals is to make international trade for our buyers and sellers, including the shipping of their products, as easy, safe and convenient as possible," says David Wei, chief executive officer of Alibaba.com. "UPS's shipping technology, ease of use and trusted premium global services will help us fulfill this goal."
Many of the suppliers who sell on AliExpress are long-time members of Alibaba.com and have been working with overseas buyers for years through the site. The initial supplier base includes companies from mainland China, but the platform eventually will be open to international suppliers as well.
"UPS is committed to the growth of China's involvement in global e-commerce as part of our overall strategy," says Jordan Colletta, vice president of e-commerce marketing at UPS. "Through our alliance with Alibaba, we hope to partner with more small and mid-sized Chinese businesses to simplify their logistics processes and connect them with new buyers and sellers worldwide."
The 10 directors elected to the board were Chairman Scott Davis, Duane Ackerman, Michael Burns, Stuart Eizenstat, Mike Eskew, Bill Johnson, Ann Livermore, Rudy Markham, John Thompson and Carol Tome.