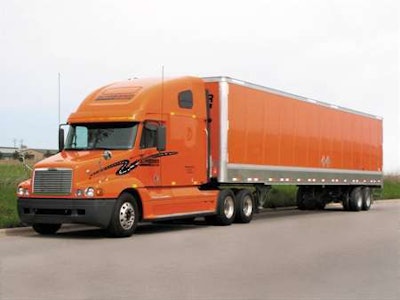 Schneider National announced that it has joined the Towing Network, a new national towing group. The Green Bay, Wis.-based trucking company also announced that Don Osterberg, vice president of safety, security and driver training, is the recipient of the Truck Safety Coalition's first-ever Distinguished Safety Leadership award.
The Towing Network, with 20,000 towing members, is a full-service national heavy-duty towing and road service dispatch organization that began providing towing services to motor carriers large and small last month. The national towing service is dedicated to bridging the gap that often exists between towing companies and motor carriers, offering fair and consistent pricing and giving motor carriers a one-call-does-it-all towing solution to meet their needs.
"We are a company made up of towers supporting towers," says President Jeff St. Pierre, a member of the towing industry for more than 12 years. "At the same time, we know that to be successful, towers need to build positive, lasting relationships with customers. We're going to do just that by providing a quality service for a fair price, sharing a like-minded approach to conducting business and promoting a professional image for the towing community."
According to St. Pierre, the Towing Network's rates are established by a board of towing experts with an average of 25 years of towing industry experience. A nationwide call center in Brunswick, Ohio, is at the heart of the Towing Network's operations. With fair and consistent pricing, motor carriers can better plan for and budget their emergency and breakdown needs, he says.
"Standardizing the quality of service and the rates charged is long overdue in the towing community," says Rob Reich, vice president of maintenance operations for Schneider National. "We applaud the Towing Network for their efforts to raise the bar. Our drivers deserve top-notch service when there's an accident or disabled equipment. The Towing Network allows us to better support drivers when they need it most."
Osterberg will be recognized by the Truck Safety Coalition – dedicated to reducing truck-related crashes, providing support to truck crash survivors and families of truck crash victims, and educating the public, policy-makers and media about truck safety issues – during a reception Tuesday, May 11, at the Sleep Apnea & Trucking Conference in Baltimore. Other presenters at the reception include Federal Motor Carrier Safety Administrator Anne Ferro and National Transportation Safety Board Vice Chair Christopher Hart.
The Sleep Apnea & Trucking Conference is sold out, and registration has closed. More than 400 attendees are expected with representatives from trucking, insurance/risk management, occupational health and healthcare, including sleep medicine. Those unable to attend can purchase the Resource Toolkit, a comprehensive manual with materials on sleep apnea and trucking, which will be available after the conference at www.satc2010.org.