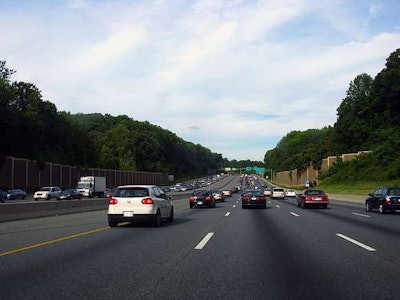 Federal Highway Administrator Victor Mendez joined Maryland Gov. Martin O'Malley in northwest Baltimore on Friday, May 14, to break ground on the $22 million replacement of the Interstate 695 bridge over Liberty Road. The new bridge, which will make travel safer and less congested in this part of Maryland, is almost entirely funded with American Recovery and Reinvestment Act funds.
"Bridge replacements are not simple projects, but this one will create good jobs for Marylanders and be a big improvement for the hundreds of thousands who depend on I-695 each day," said U.S. Transportation Secretary Ray LaHood.
The bridge is one of Maryland's top bridge-replacement priorities. Built in 1961 and widened twice since, the eight-lane bridge carries an estimated 210,600 vehicles each day over Liberty Road below. When completed in 2012, the new bridge will accommodate the 282,300 daily drivers estimated to use the route by 2030 – a 34 percent increase over current traffic.
"By all accounts, this project would not be possible without Recovery Act funding," said Federal Highway Administrator Victor Mendez. "By creating jobs and improving a key piece of the state's infrastructure along one of the region's fastest-growing routes, replacing this bridge will help the state's economy and provide safer travel for the people of Maryland."
Travel will be safer and traffic will be less congested on this segment of the I-695. The new bridge will be 38 feet wider to accommodate additional future lane widening anticipated for the I-695 Beltway. Because the new bridge will be built three feet higher than the existing one, on- and off-ramps will be rebuilt to accommodate the new elevation. Congestion will be reduced with a longer acceleration lane for traffic entering on the outer route, and a new "inner" lane will separate local traffic from the majority of through traffic.
Based on engineer's estimates, FHWA obligated $30 million in ARRA funds for this project's construction. The winning bid for the construction contract was $18 million – saving taxpayers 40 percent. Additional expenses, such as post-construction inspections, will bring the project's total cost to $22 million – $21.9 million of which are Recovery funds.
Next summer, part of the project will require reducing the route's eight lanes to six – three in each direction. To minimize inconvenience to area drivers, the contractor will be rewarded with up to $450,000 if this part of the project is completed in less than 120 days. Penalties will apply if it is not completed within 150 days.