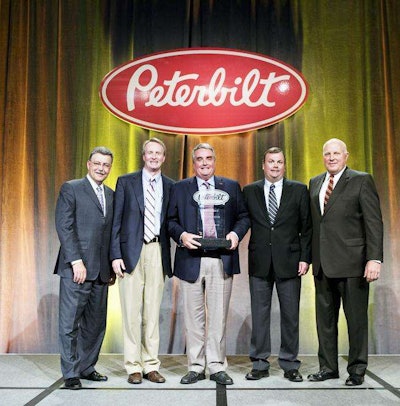 Glenn Larson, dealer principal of Peterbilt of Springfield, Mo., was named the 2009 North American Dealer of the Year at Peterbilt Motors Co.'s Annual Dealer Meeting in Seattle. Peterbilt of Springfield, located in Strafford and part of the Larson Group, achieved outstanding performance results in areas such as heavy- and medium-duty market share, parts and service sales, customer service and financing through Paccar Financial and leasing through PacLease.
"On behalf of all of the employees at Peterbilt of Springfield, we are very proud to be named the Peterbilt North American Dealer of the Year for 2009," Larson says. "The strong relationship that we have with Peterbilt has allowed us to provide our customers with industry-leading products and services, superior customer service and support, and the highest standard of quality and reliability. I am also very grateful to the dedicated team of employees at Peterbilt of Springfield, who truly deserve this award as a result of their hard work and initiative."
The Larson Group operates seven exclusive Peterbilt dealerships with locations that service Arkansas, Illinois, Indiana and Missouri. The Springfield location also won a Best in Class award for 2008 and is a nine-time Peterbilt Platinum Oval award winner for its excellent performance in the Peterbilt Standards of Excellence program.
"Glenn Larson continues to exemplify the qualities that it takes to run a highly successful dealership," says Bill Jackson, Peterbilt general manager and Paccar vice president. "Over the years, Glenn has been a tremendous partner in his support of Peterbilt and the entire Paccar lineup of products, including PacLease and Paccar Financial. We are very fortunate to have Glenn and the entire Larson Group family as a part of the Peterbilt dealer network."
Peterbilt also recognized its Best in Class award winners, chosen as top performing dealers from its network of 250 locations. To qualify, these dealers earned Platinum Oval awards this year and excelled in areas such as market share, goal achievement and financial management. Best in Class award winners were Doug Danylchuk, Peterbilt Manitoba, Winnipeg, Manitoba; Eric Jorgensen and Kurt Jorgensen, Peterbilt Wisconsin, Green Bay, Wis.; Brad Wilson, Peterbilt of Norfolk, Norfolk, Neb.; and Jeff Hunter, Hunter Peterbilt, Smithfield, Pa.
Peterbilt also presented several other awards, including its 2009 Medium Duty Truck Dealer of the Year to David Climie, dealer principal of Peterbilt Ontario Truck Centres in London, Ontario, which operates 10 locations. "On behalf of Peterbilt Ontario Truck Centres, we are honored to have earned this recognition," Climie says. "The Peterbilt medium-duty products are truly best-in-class with a unique combination of quality, durability and value. Peterbilts are known for being one of the most innovative products available on the market, and we are excited by the opportunity to grow with the award-winning medium duty lineup of Peterbilt trucks."
Peterbilt's Truck Care Dealer of the Year was awarded to Don and Terry Pasiuk, dealer principals of Peterbilt Pacific Abbotsford, British Columbia. "Receiving the Truck Care Dealer of the Year award is a fantastic recognition of our staff's commitment to our customers and the Peterbilt Truck Care program," says Don Pasiuk, chief executive officer.
Peterbilt Pacific has five locations in British Columbia, including Abbotsford, Surrey, Kamloops, Prince George and Terrace. "We do our very best to take care of our customers and their trucks in every way possible," says Terry Pasiuk, president. "Our factory-trained technicians and outstanding facilities help provide our customers with maximum uptime, lower operating costs and top vehicle performance. This would not be possible without the support from Peterbilt and the Truck Care program."
The Red Oval Dealer of the Year, which goes to the top performing preowned truck dealer in the Peterbilt network, was presented to Rush Truck Center of Phoenix. W.M. "Rusty" Rush, president and chief executive officer of Rush Enterprises and dealer principal, accepted the award.
"We are very pleased to have received this recognition and are proud of the employees at our Phoenix dealership for their hard work in achieving this honor" Rusty Rush says. "We take great pride in having repeat and long-term customers, thanks to the excellent resale value of Peterbilt trucks and dedicated service from Rush Truck Centers both during and after the sale." Rush Enterprises operates 42 Rush Truck Center Peterbilt dealerships throughout the southern United States.
Also, 24 dealers earned Platinum Ovals this year for their outstanding performance in the Peterbilt Standards of Excellence Program, which recognizes operational, financial and goal attainment standards.