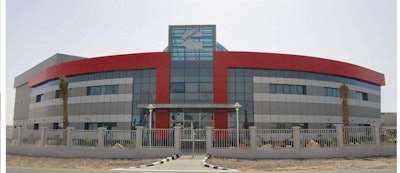 Cummins Inc. announced Wednesday, May 26, the opening of the joint headquarters of the Cummins Middle East Regional Distribution Organization (RDO) and Cummins Middle East FZE, the wholly-owned distribution entity of Cummins Inc. in the Middle East, joint headquarters in the Jebel Ali Free Zone (Jafza).
The state-of-the- art 6,000-square-meter Leeds Silver-qualified complex opened May 20 and includes office, warehouse and training facilities equipped to host 160 employees. The building currently accommodates more than 120 employees from the Middle East RDO and Cummins Middle East FZE organizations, as well as representatives of other Cummins business units, including Power Generation, Filtration and Business Services. The complex also houses a 3,000-square-meter warehouse and a service training facility for classroom and hands-on training for distributor, dealer and customer technicians.
The inauguration ceremony was attended by employees, customers and senior Cummins executives from around the world, Cummins dealers and independent distributors from the Middle East Region, vendors and U.S. and UAE government officials, as well as senior officials from Jebel Ali Free Zone Authority, the American Business Council and Economic Zones World.
"By 2014, Cummins worldwide expects to generate revenue of over $20 billion, and we are counting on the Middle East to contribute meaningfully to this growth," says Pamela Carter, president of Cummins Distribution Business. "We intend to work in partnership with our customers, distributors and all stakeholders to continue to grow and tap markets around the region. Our core values demand that we give back to the communities that we live and work in. Our training facility will benefit current and future employees from this community. We want to help them to grow their skills and make sure that they have the technical and management capability for the long run."
Cummins broke ground on the project in November 2008, and since then, "there has never been a dull moment," says Dennis Heathfield, managing director of Cummins Middle East Distribution. Heathfield says that in the next few months Cummins will start work on building an engine rebuild and testing centre adjacent to the current facility.
Cummins has had distribution representation in the Middle East since 1956. The Middle East RDO covers 16 countries, served by the company-owned distributor, Cummins Middle East FZE; four full-line independent distributors in Saudi Arabia, Kuwait, Egypt and Pakistan; and two Power Generation distributor/dealers in Iraq and Jordan.
"We have a very rich history in the Middle East, and we certainly see a bright future, in which we hope to grow with our partners and our stakeholders," says Amy Adams, executive managing director for Europe, Middle East and Africa Distribution. "At its very core, Cummins is about people who are dedicated to supporting our partners, distributors, the community and our employees. This building is a visible sign of our commitment."