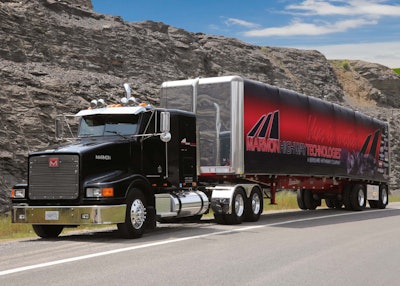 It has been more than a dozen years since the last heavy-duty truck bearing the Marmon name rolled out of a factory, but the company that still shares its name is bigger and more integrated into the trucking industry than ever.
Marmon Highway Technologies last year hit the road to show its major customers the depth and breadth of the commercial vehicle products offered by 13 independently operated companies serving customers in the automotive aftermarket, commercial truck, heavy-duty trailer and undercarriage markets worldwide — from quarter fenders to entire platform trailers and much in between. On May 26, MHT took that same message to the trucking media at a private trade show in Birmingham, Ala., dubbed "Ideas in Motion."
MHT's individual companies date back to the 1940s, but it has only been since 2002 that The Marmon Group pulled those companies together under the MHT umbrella. Another major milestone came in 2008 when The Marmon Group was acquired by Berkshire Hathaway.
With a culture of innovation and the financial resources that come with ownership by Berkshire Hathaway, MHT has continued to invest in research and development, says MHT President Kelly Dier. MHT companies have invested more than $25 million in R&D since 2003 to develop new products and solutions for OEM, fleet and aftermarket customers. The company has spent more than $130 million over the same period on equipment and facilities to design, test and manufacture new products.
"Our continually expanding investment in R&D and infrastructure has resulted in an unprecedented number of new products being introduced in 2009 and 2010," Dier said. "While other companies pulled back to try to wait out the latest cyclical downturn in the trucking industry, we've used our financial strength and stability to invest in the future for our customers."
Some of the featured products, technology and services included:
The Fontaine Ultra line of fifth wheels, including the Fontaine Ultra NS with infinite, automatic slack adjustment; the lightweight Fontaine Ultra LT; and the lighter-weight heavy-duty Fontaine Ultra HD (Fontaine Fifth Wheel)
Certified installation of alternative fuel engines, alternative fuel delivery systems and auxiliary power units (Fontaine Modification Company)
The Flex Wedge lightweight mud flap retaining system, fiberglass fenders, Hogebuilt wide-based tire fenders, heavy-duty construction fenders and Body Armor fender coating (Fontaine Spray Suppression)
The modular Fontaine Magnitude 55MX heavy-haul trailer and lightweight Fontaine Revolution Hybrid Dropdeck trailer (Fontaine Trailer Company)
A Tire Pressure Adjustment System (TPAS) that allows rapid deflation and individual tire pressure settings (Marmon-Herrington)
A lightweight leaf spring replacement for Mack camelback suspensions (Triangle Suspension Systems)
The TSE Omnibrake High Output Technology (HOT) for disc brake and S-cam drum brake applications, an alternative to piston-type disc brakes that provides higher parking or emergency force while maintaining low hold-off pressure (TSE Brakes)
Lightweight aluminum trailer disc wheel hubs; the lightweight, lower-heat Webb Vortex brake drum; W43 asbestos-free friction for the transit market; and Super Kits, a brake drum, friction and hardware package for the transit and coach markets and other severe duty applications. (Webb Wheel Products)
In a tour for journalists on May 27, MHT demonstrated some of its R&D investments at the Fontaine Fifth Wheel facility in Trussville, Ala., and at the Cullman, Ala., facility, where TSE Brakes has moved its headquarters and R&D facilities to join Webb Wheel's headquarters and R&D lab.
Fontaine Fifth Wheel has dedicated 9,000 square feet of its new headquarters in Trussville to a R&D lab equipped with top-of-the-line computers, software, a 3-D printer and custom testing equipment. According to the company, it is the largest fifth wheel research lab in the world.
"Fifth wheels are our business – we don't make anything else," said Henry Bell, president of Fontaine Fifth Wheel North America. "As a result of this singular focus, we invest considerable resources in fifth wheel research and development. In fact, even during the current recession and industry downturn, we have not reduced engineering personnel and have actually increased our R&D budget every year since 2007."
MHT companies are grouped into four independent sub-sectors: Commercial Truck; Commercial Vehicle Undercarriage; Trailers; and Automotive Aftermarket. MHT companies employ 2,000 employees and, in a normal market, generate more than $700 million in revenue.