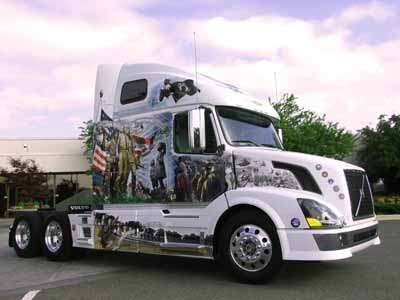 The employees of Volvo Trucks North America's New River Valley plant in Virginia continued a nearly two-decade-old tradition over the Memorial Day weekend by participating in the annual Rolling Thunder Ride for Freedom rally. This was the 19th year Volvo employees from NRV have taken part in the massive motorcycle rally dedicated to America's fallen or missing military heroes.
As in past years, NRV's involvement included a specially decaled Volvo VN670. The illustrations detailed a variety of patriotic and military veteran themes, memorials and events from past conflicts. This year's graphics highlighted the 60th anniversary of the start of the Korean War. The truck's graphics also reflected the local nature of the remembrance and the participation of the Southwest Virginia community in the national event. This year, special graphics memorialized two local veterans who had recently passed away: one was a former Vietnam War POW; the other was a veteran of D-Day and Korea.
Early on Saturday, May 29, hundreds of local residents, Volvo employees and participating motorcyclists gathered at UAW Local 2069's Union Hall, adjacent to the NRV Plant, for speeches by local veterans, reflections and prayers, and "Amazing Grace" played on bagpipes. At the end of the ceremony, hundreds of motorcyclists, including several dozen Volvo employees, and the Volvo VN left for the drive to the Vietnam Veterans Memorial in Washington, D.C., to join up with hundreds of thousands of other participants.
Planning for NRV's involvement in the rally typically begins in January with the Veteran's Committee of UAW Local 2069. Advantage Truck Center of Charlotte donated the use of the truck from its inventory for the event.