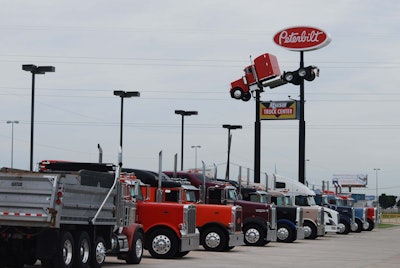 Two miles west of its old facility at the Interstate 40 Council Road exit near downtown Oklahoma City, Rush Enterprises held a grand opening for its new 115,000-square-foot truck sales and service facility Tuesday, June 2. The new facility, which will open for business Monday, June 7, is among the largest Rush Truck Center locations in size. Its facilities include:
• A service and body shop structure capable of housing 125 trucks at capacity;
• Laser-guided frame-straightening and alignment bays;
• A high-tech downdraft paint prep capability and a configurable paint booth big enough to accommodate more than one tractor or trailer unit; and
• Drivers' lounge with showers, flatscreen TVs, wireless Internet access and laundry facilities.
The Oklahoma City Rush center sells and services Peterbilt, GMC, Hino and Isuzu heavy- and medium-duty trucks and used trucks of other makes. In all, 20,000 square feet of parts inventory space, including Rush's Rig Tough line of customizing components, help make the center what Rush calls a "one-stop shop" for truck sales and service.
"This new dealership location illustrates our commitment to provide the best for our customers and to the commercial vehicle market," says W. Marvin Rush, Rush Enterprises founder and chairman, on hand for the grand opening.
Festivities included dedication of a new access road named after longtime Oklahoma City Rush Truck Center Diesel Technician Melvin Young, who passed away in 2007. "Melvin really stood for what Rush Truck Center, and Rush Enterprises, stands for," says Michael Mayer, general manager of the Oklahoma City facility. "Taking care of the customer, taking care of the family and taking care of the employees – he was the total package."
A ribbon-cutting was attended by representatives of both state and national government, with an address given by House Transportation and Infrastructure Committee member and Oklahoma gubernatorial candidate Mary Fallin. "I have great appreciation for the trucking industry," Fallin says. "I know how important it is to our state's economy. It's especially important to our national economy." She says Rush and its employees have "set the bar high for the industry" with the new center.
More than 30 suppliers exhibited at a product fair set up in the new facility's service area. Grand opening prizes included gift cards from $50 to $100 to Bass Pro Shops and Best Buy stores donated by Paccar, Cummins and Rush Enterprises; gift cards redeemable at Golf International; a set of Bridgestone truck tires; 26-inch plasma and 32-inch LCD flatscreen TVs; and four Texas Rangers baseball tickets donated by a Rush fleet customer.