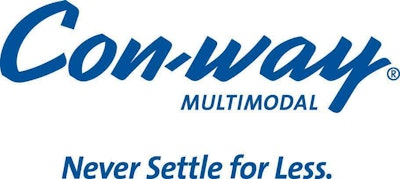 Con-way Multimodal, a division of Con-way Inc., announced the launch of Con-way TweetLoad, a patent-pending tool designed to help carriers find freight loads leveraging the Twitter social media platform. Carriers now easily can access available loads from Con-way Multimodal by following TweetLoad on Twitter at www.twitter.com/ConwayTweetLoad. Carriers following @ConwayTweetLoad quickly can see the latest available shipments, along with links to further information on the Con-way Multimodal link board where the carriers can place bids on available loads daily.
"With this novel use of Twitter, Con-way Multimodal is leading the industry in maximizing the best features of new technology to improve their processes," says Bill Graves, president of the American Trucking Associations. "This is a great example of how innovative transportation companies can make it easier for carriers to do business with them, which will be a benefit to our industry overall."
Freight carriers registered with Con-way Multimodal always have been able to bid on available loads by signing in to the company's Web-based load board, Link. Now, by following the company on Twitter, carriers will have more convenient access to load information that is updated every 15 minutes. Users – whether registered with Con-way Multimodal or not – are able to sign in to Twitter and follow the load posts, or "tweets," for any period of time without repeatedly logging in on a separate load board. To accept loads, a carrier must be a registered partner of Con-way Multimodal's third-party capacity network.
"We're always looking for ways to make Con-way Multimodal easier for carriers to work with, and through Twitter and Con-way TweetLoad, we have found an innovative channel to continue in that direction," says Tyler Ellison, president of Con-way Multimodal. "Twitter is where the carriers are, and Con-way TweetLoad enables us to reach them by pushing shipment information directly and automatically to any carrier who wants it, even on mobile devices."
To create the TweetLoad functionality, Con-way Multimodal IT professionals designed a patent-pending application that extracts key information on available loads from the company's load board, Link, and uses it to populate individual load tweets viewable by TweetLoad followers. The application checks and transmits any new loads every 15 minutes to keep information up to date for carriers following it.
Con-way Multimodal arranges third-party carrier services for over-the-road, intermodal, flatbed, heavy haul and specialized transportation for freight shipments. View a YouTube demonstration of TweetLoad at www.youtube.com/watch?v=0zL7h7kTU1M.