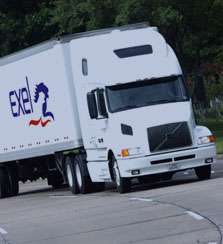 Exel, a Westerville, Ohio-based provider of North American supply chain management and a Deutsche Post DHL company, recently promoted several associates throughout its organization. New positions earned include:
– Patrick Kelleher, senior vice president, sales and business development, Americas – In his new role, Kelleher is responsible for supporting the organization's growth objectives by driving business development and account management processes. Previously, he was responsible for business development for Exel's retail business unit.
– Fred Takavitz, senior vice president of business development, retail, Americas – Takavitz joins the retail team equipped with 21 years of experience at Exel. He most recently led the customer and business development team within the technology, aerospace and service logistics business.
– Gary Allen, vice president, product development and innovation, Americas – In his new role, Allen is responsible for product development, innovation and sustainability initiatives across the Americas region. Previously, he was vice president, solutions, for the company's automotive, chemical and industrial business units. Allen has more than 20 years of experience in supply chain management, logistics and consulting.
– David Eubank, vice president, information technology, Americas – In addition to his current consumer and life sciences responsibilities at Exel, Eubank assumes leadership for information technology initiatives in Latin America.
– Ed Joyce, vice president of finance, consumer and life sciences, Americas – Since joining Exel in 2006 as senior director of finance, Joyce has been responsible for the finance function for the North American consumer business unit. His role has been expanded to oversee the finance functions for both the consumer and life sciences business units. In his new role, Joyce will manage the sector's accounting, reporting, financial controls and commercial finance functions.
– Adrian Kumar, vice president, integrated logistics design and solutions, Americas – In his new role, Kumar assumes responsibility for the central integrated logistics design team and the solutions functions formerly housed in the retail and automotive business units.
– Sally Miller, vice president, information technology, Americas – Adding to her Retail business unit support responsibilities, Miller assumes oversight of Exel Direct, Exel's home and business delivery operation.
– Cary Mosher, vice president of operations, consumer and life sciences, Americas – In this new role, Mosher is responsible for directing operations throughout the Midwest region of the United States and will function as the senior leadership contact for several key customers. Mosher has been with Exel for 19 years.
– Dave Moss, vice president of finance, consumer and life sciences and Latin America, Americas – Since joining Exel in 1996, Moss has developed the consumer and life sciences finance function into an effective team that employs leading practices. In his new role, his main focus will be transferring these best practices to the Latin America region.
– Pablo Pinson, head of risk management and insurance, Latin America and the Caribbean – As the company's former regional counsel for Latin America, Pinson brings a wealth of experience and knowledge of the region to his new role on the Americas insurance and risk team. His new role is focused on aligning the total risk portfolio and service offerings with partners of all Deutsche Post DHL businesses throughout Latin America.
– Paul Betscha, senior director, security operations, Americas – In his new position, Betscha assumes responsibility for all operational and investigative security functions in Mexico, in addition to his existing responsibilities for the United States and Canada. He joined Exel in 2008.
– Denise Klapper, senior director, marketing, Americas – Klapper has been promoted to senior director, overseeing all marketing activities for the Americas region. Since joining Exel in 2006, Klapper and her team have made significant strides in increasing the visibility of Exel in the industry through online, marketing, public relations, events and communications activities.
– Tom McKenna, senior director of operations, chemical and energy, Americas – McKenna joined Exel in 2000 and has served in numerous operational roles supporting chemical, automotive and industrial customers. In his new position, he assists with executing the growth strategy for the chemical and energy businesses.