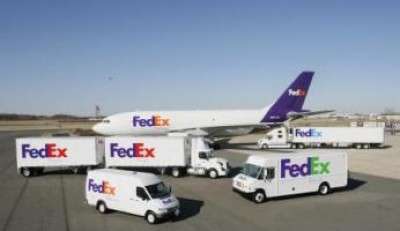 FedEx Corp. today, June 16, reported net income of $419 million for the fourth quarter ended May 31 compared to last year's fourth-quarter net loss of $876 million, which included charges resulting primarily from the impairment of goodwill and aircraft.
"FedEx delivered strong results in our fourth quarter, thanks to sequential growth in package volume and our ability to leverage our unique global networks to take advantage of a recovering economy," said Frederick W. Smith, chairman, president and chief executive officer of the Memphis, Tenn.-based company. "We ended our fiscal year a stronger company, and I am confident FedEx is very well positioned for future revenue and earnings growth."
Other consolidated results for the fourth quarter included revenue of $9.43 billion, up 20 percent from $7.85 billion; operating income of $696 million, up from an operating loss of $849 million; and an operating margin of 7.4 percent. Earnings increased as a result of stronger international express shipment growth and continued growth at FedEx Ground. An operating loss for the FedEx Freight segment, the reinstatement of certain employee compensation programs and higher aircraft maintenance expenses impacted the quarter's results.
FedEx Freight reported revenue of $1.23 billion, up 30 percent from $948 million; and an operating loss of $36 million compared with an operating loss of $106 million. Less-than-truckload average daily shipments increased 34 percent, and LTL yield declined 6 percent due to the effects of discounted pricing. Operating losses were driven by lower yields and higher volume-related costs, as significantly higher shipment levels required increased purchased transportation and other expenses. The operating loss also reflects an $18 million impairment charge related to the goodwill associated with the acquisition of Watkins Motor Lines, now FedEx National LTL. Last year's results included $100 million of charges, mostly related to impairment of goodwill associated with the Watkins acquisition.
For the full year, FedEx Corp. reported revenue of $34.7 billion, down 2 percent from $35.5 billion; operating income of $2.0 billion, up from $747 million; and net income of $1.18 billion, up from $98 million. Capital spending for fiscal 2010 was $2.8 billion, with $1.5 billion of investments largely related to more fuel-efficient aircraft, including the delivery of six Boeing 777Fs for use in the international network and 12 Boeing 757s.
"We expect continued improvement in both revenue and earnings in fiscal 2011," said Alan B. Graf Jr., FedEx Corp. executive vice president and chief financial officer. "Resumed growth in industrial production and global trade is increasing demand for our transportation services, and yield management remains a top priority across all of our operating companies. However, we expect the growth in earnings in fiscal 2011 to be constrained by significant increases in fixed pension and volume-related aircraft maintenance expenses, along with higher anticipated healthcare costs. In addition, our earnings guidance includes increased costs related to the planned reinstatement of various employee compensation programs."
The company expects pension and retiree medical expenses to increase about $260 million year over year due to a lower discount rate. However, cash contributions to U.S. pension plans are expected to decline from about $850 million in fiscal 2010 to about $500 million in fiscal 2011. "We remain fully focused on improving yields, margins, returns and cash flow," Graf said. "Our cash flow from operations was sufficient to fund our fiscal 2010 capital investments, and we expect this to be the case again in fiscal 2011."