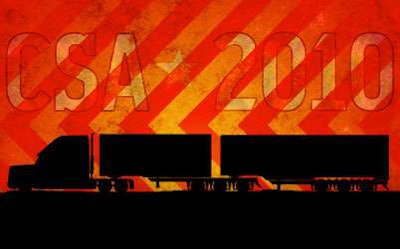 J.J. Keller & Associates now is offering expert guidance to companies, to address the impact of Comprehensive Safety Analysis 2010 on fleet operations. Their CSA 2010 Professional Advisory & Support Service – CSA 2010 PASS – puts one of J.J. Keller's Regulatory & Safety Consultants in direct contact with fleet managers and company executives to provide an assessment of exposure to U.S. Department of Transportation interventions and fines.
"CSA 2010 PASS is a way for fleets to have a regulatory expert working for their company, without incurring the expense of hiring a full-time employee," says Rich Covyeau, J.J. Keller corporate regulatory and safety consulting manager. "Our team reviews and scores a fleet's safety record and violations, but what comes next is most important – we help companies improve any gaps in regulatory compliance through training, education and process improvement. The CSA scorecard is useful, but without appropriate corrective action, a visit or letter from DOT will likely happen."
The CSA 2010 PASS program is tailored to company needs and typically includes a review of roadside inspections and violations, a company-specific CSA scorecard, discussion on interpreting scores, an assessment of current fleet compliance practices, driver training and policy development. A discussion of best practices is a part of all fleet interaction.
For fleets with more than 25 regulated vehicles, J.J. Keller is offering CSA 2010 Quick PASS, in which Keller provides a company CSA 2010 scorecard as well as two hours of telephone advisement, for $395. CSA 2010 Quick PASS is intended to help companies immediately understand their exposure to CSA 2010 when the new Safety Measurement System (SMS) is implemented by DOT in late 2010. To view video of a consultant speaking about CSA 2010 PASS, go to www.jjkellerservices.com/consulting/csapass.html.