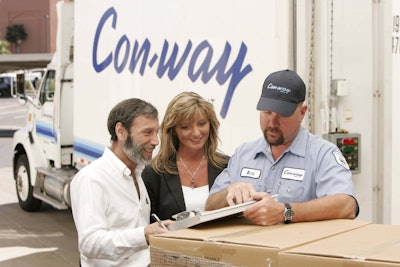 Con-way Inc. honored five employees with its fourth annual CEO Constellation Awards. Executives selected the winners from throughout the enterprise as those who best exemplify the company's core values of integrity, commitment and excellence. The awards represent the highest employee honor bestowed by the San Mateo, Calif.-based company each year.
Douglas W. Stotlar, president and chief executive officer, and the presidents of each of the company's three operating companies chose the five winners from 10 finalists culled from the company's 21 President's Award winners, which had been selected from its 260 Quarterly Leader Award recipients. Constellation Award winners each receive a sculptured crystal vase inscribed with their name, a monetary prize and a lifetime of recognition within the company. They also are attending a special recognition event that will include an executive retreat with Stotlar and the three operating company presidents.
Con-way's 2010 CEO Constellation Award winners are Chris Bott, director of operations, Con-way Freight, Cleveland; Robin Bryant, transportation manager, Menlo Worldwide Logistics, Lincolnton, N.C.; Letchumanan Chidambaram, senior supervisor, operations, Menlo Worldwide Logistics, Singapore; Steve Studer, shop manager, Con-way Truckload, Joplin, Mo.; and Laurie Zech, internal audit manager, Con-way Enterprise Services, Portland, Ore.