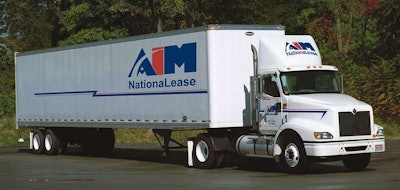 NationaLease, a full-service leasing company, recently honored nine NationaLease members for providing exceptional reciprocal road service throughout the past year. The awards presentation was held during the NationaLease's Spring Maintenance Managers Meeting in Lincolnshire, Ill. The Exceptional Service Award is a peer-nominated award that recognizes members in the NationaLease network who go "above and beyond" to provide an outstanding level of reciprocal road service to their fellow NationaLease members.
This year's winners and representatives accepting the award from each company included: Ken Singleton, Aim NationaLease, Girard, Ohio; Pete Souza, Salem NationaLease, Winston-Salem, N.C.; Kenny Watts, Carco NationaLease, Fort Smith, Ark.; Ray Houston, Interstate NationaLease, Albany, Ga.; Bryan Byrd, Williams NationaLease, Normal, Ill.; Brian Hicks, FirstLease Inc., a NationaLease member, Norcross, Ga.; John Martin, Miller NationaLease, Lumberton, N.J.; Bill Carroll, Minuteman Trucks Inc., a NationaLease member, Walpole, Mass.; and Lonnie Vis, Star Truck Rentals Inc., a NationaLease member, Grand Rapids, Mich.
The NationaLease Reciprocal Service program is designed to give drivers peace of mind knowing that there are more than 600 NationaLease locations and more than 36,000 approved service vendors all across the United States, Canada and Mexico should a breakdown occur. Road service for breakdowns or repairs is available 24 hours a day, seven days a week, throughout the year.