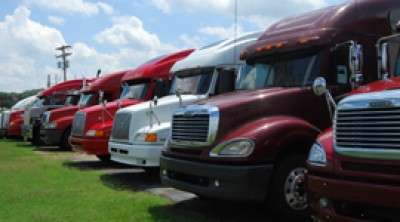 Class 8 truck net orders in North America jumped 20.5 percent in June over May and soared 90.8 percent above June 2009, according to preliminary data released Wednesday, July 7, by forecasting firm FTR Associates. June orders reflect an annualized rate of 188,000 units, boosting the annualized rate for the first half of this year to 137,000 units, FTR says.
"The increase in order activity is a welcome sign that the recovery for the commercial vehicle industry remains on track," says FTR President Eric Starks. "With the stronger order activity, production levels in the third quarter will likely be higher than initially anticipated."
But FTR isn't convinced that the industry is out of the woods yet. In its North American Commercial Truck and Trailer Outlook, also released Wednesday, July 7, FTR concluded that there are risks to the U.S. economic recovery as a consequence of Europe's ongoing economic challenges, recent U.S. stock market declines and continued high unemployment in the United States.
Although FTR has raised its forecast of Class 8 demand for 2010 slightly due to recent increased order activity, "we do continue to be conservative because we look at a big picture, which tells us that there are real risks to too much optimism," Starks says.