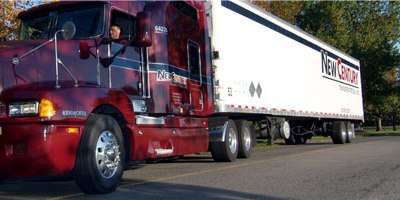 New Century Transportation, Inc. has become the second trucking company in less than a week to file a registration statement for an initial public offering of common stock. The Westampton, N.J.-based truckload and less-than-truckload (LTL) carrier told the Securities and Exchange Commission on Aug. 11 that it expects to raise $120 million in the IPO. On Aug. 6, Panther Expedited Services filed IPO registration documents with SEC. Panther's registration statement followed by about two weeks an IPO filed by the owner of Swift Transportation.
As of March 31, New Century's operation consisted of 987 owned tractors and 2,141 owned or leased trailers, including 887 temperature-controlled trailers. Although New Century serves shippers throughout the United States and parts of Canada, it focuses in particular on LTL freight originating in the Northeast and the larger market of inbound truckload freight back into the region.
New Century was founded by Harry Muhlschlegel in July 2000. In June 2006, investment funds affiliated with Jefferies Capital Partners acquired a controlling interest in New Century. Jeffries owns several other transportation-related properties, including Duenweg, Mo.-based R&R Trucking, which specializes in hauling ammunition, commercial explosives and other hazardous materials.
According to New Century's preliminary prospectus, the company's revenues have grown since 2002 at a compound annual growth rate of 21.7 percent. In 2009, the company generated total revenues of $229.3 million, down 20.6 percent from 2008. Revenues net of surcharges dropped 11.3 percent to $203.1 million. New Century posted a net loss of $5.1 million in 2009 compared to a $1.2 million net loss in 2008. For the first three months of this year, revenues are up 11.6 percent, New Century says.
Load and deliver

In the prospectus, New Century said its Load-to-Deliver operating model that combines the higher revenue per tractor of an LTL carrier with the operating flexibility and lower fixed costs of a truckload carrier gives it a competitive advantage. "Specifically, the flexibility of our Load-to-Deliver operating model allows us to accommodate a broad range of shipment sizes and freight for both regional and national accounts while providing shippers faster and more predictable transit times with reduced freight damage."
Customers aren't the only beneficiaries, however, New Century says. The Load-to-Deliver model also allows the carrier to avoid typically unfavorable outbound truckload pricing from the Northeast while still capturing the favorable rates afforded by inbound truckload operations into the population-dense region.
"We believe our Load-to-Deliver operating model enables us to optimize the economics of a round-trip by combining two favorably priced headhauls (an outbound load of LTL shipments and an inbound truckload shipment) to maximize revenue per operating tractor," New Century said in the prospectus. "For example, in 2009 our net revenue per operating tractor per day of approximately $1,000 was significantly higher than the $500 to $700 per day that we believe to be the average for publicly traded truckload carriers over the same period."
Moreover, because New Century delivers LTL freight directly from the trailer it doesn't require the expensive additional investment of local delivery fleets, nationwide breakbulk and destination terminals and all the freight handlers necessary for a typical LTL operation.
Customers ready to grow
New Century's customer base is heavily weighted toward industrial, chemical, pharmaceutical, agricultural and food companies. The company says it targets those companies rather than retail outlets because they have less cyclical and more consistent shipping needs in the freight lanes it prefers and are willing to pay for a high level of service. New Century adds that it believes its customer base is well positioned for an industrial-led economic recovery. Together, industrial products and chemicals represented 44 percent of the revenues from New Century's top 800 customers.
In 2009, New Century's 25 largest customers accounted for nearly 35 percent of total revenues. Some of the largest include Air Products and Chemicals, Arkema, Cardinal Health, Crayola, The Dow Chemical Company, International Flavors and Fragrances, Leveraged Execution Providers, or LXP (a third party logistics provider to McDonald's Corporation), Mercedes-Benz USA and Teva Pharmaceutical Industries.