A sleeping crisis?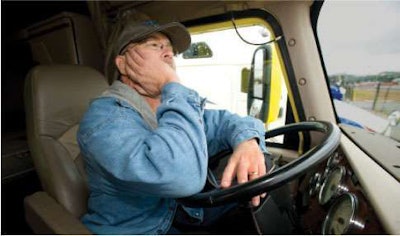 Fleets use technology, risk management to monitor, treat a growing pandemic of fatigue and sleep disorders.
Driver fatigue is the primary cause of only about 1.6 percent of truck fatalities, according to the Federal Motor Carrier Safety Administration. However, fatigue is often the root cause for serious bad driving habits – such as speeding and distracted driving – that are major causes of crashes. In the first of a three-part series on driver fatigue management, CCJ spotlights some advanced technologies and programs used to detect, monitor and control this complex problem. Subsequent stories will address electronic driver logging and driver-load scheduling.
Someday, commercial drivers may wear devices on their wrists that monitor their sleep patterns and interface with fleet dispatch systems to provide rest-related information for a dispatcher. Such information might even integrate with automated load planning systems to match drivers with loads based on the amount and quality of rest rather than on a regulatory limit.
This scenario might sound futuristic and implausible, but it is precisely the type of real-time fatigue management system that Don Osterberg currently is pursuing with NASA safety engineers.
"We are working to that end, but nothing is on the near-term horizon," says Osterberg, senior vice president of safety and driver training for Schneider National. In the meantime, the Green Bay, Wis.-based company is using a variety of technology, training and driver wellness programs to lower the risk of fatigue. "The bottom line is that fatigue is a serious issue. When you recognize the impact of fatigue, it really obligates carriers to focus on developing a comprehensive management strategy."
Targeting sleep disorders
Any fatigue management program starts by going after the low-hanging fruit – drivers with sleeping disorders.
Obstructive sleep apnea (OSA), one of the most severe types of sleep disorders, blocks the airway during sleep, causing the body to wake up a minimum of 15 to 20 times an hour to restore breathing. Besides causing daytime drowsiness, OSA can lead to serious health issues such as hypertension, diabetes and cardiovascular disease.
Up to 28 percent of commercial drivers have severe sleep apnea, according to an oft-cited research project from Dr. Allan Pack at the University of Pennsylvania. OSA commonly is treated using continuous positive air pressure (CPAP) or auto-titrating positive air pressure (APAP) devices. A CPAP device supplies a constant amount of air pressure to the patient, whereas an APAP device automatically titrates, or tunes, the amount of pressure at each breath to the minimum required to maintain an unobstructed airway.
"When you look at the whole of commercial drivers, there are a significant number who today are undiagnosed and untreated," Osterberg says.
As a self-insured carrier, Schneider's initial motivation for implementing a sleep apnea screening and treatment program was to reduce its medical costs. Today, about 10 percent of the company's drivers are treated for sleep apnea with CPAP devices, Osterberg says. Of the initial group of drivers that received treatment between 2004 and 2009, the company documented monthly reduced medical costs per driver of $538 to $780.
Schneider's sleep apnea program created other safety-related benefits. During the same 2004-2009 timeframe, fatigue-related crashes decreased by 27 percent, the median cost of crashes fell by 48 percent, and overall fatalities dropped by 59 percent.
"We have demonstrated that commercial drivers can be both safe and productive when treated," Osterberg says. "The benefits accrue almost immediately."
Overall, Schneider documented annual medical savings of $6,500 per driver by addressing sleep disorders. With the reduction in accident costs, total savings were about $9,000 per driver per year. Retention also improved: Drivers who received treatment stayed an average 27 months – a significant improvement considering annual driver turnover is 70 percent for large fleets, based on 2009 survey data by the American Trucking Associations.
Other motor carriers have come forward with similar experiences. A study led by Dr. Benjamin Hoffman, chief medical officer of Waste Management Inc., compared costs for 156 WMI drivers who received CPAP or other treatments for OSA to costs for 92 WMI drivers who were diagnosed with OSA but were not treated.
For treated drivers, annual health plan costs decreased by an average of $2,700 in the first year and another $3,100 in the second year, compared to no change for untreated drivers. The treated drivers also missed fewer workdays (an average of 4.4 days in the first year) and had lower short-term disability costs ($528 over two years).
On average, treatment for OSA led to "over $6,000 in total health plan and disability cost savings per treated driver," Hoffman and other researchers wrote in the May issue of the Journal of Occupational and Environmental Medicine. Total costs decreased by 41 percent in drivers treated for OSA, compared to an 8 percent decrease in untreated drivers.
Treating disorders
One of the challenges trucking operations face regarding sleep apnea and other disorders is that their work force is highly mobile and, often, decentralized. Several vendors have created delivery models for screening, diagnosis and treatment of sleep disorders among mobile workers.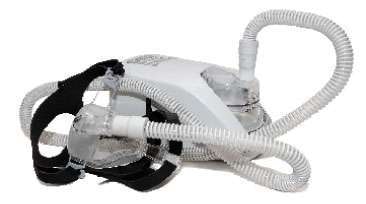 Screening and diagnosis are the first obstacles. This delivery model consists of a diverse geographic network of diagnosis and treatment centers, technology to monitor drivers' CPAP usage remotely, and a staff of medical specialists to provide training and coaching to ensure driver compliance. These treatment programs typically cost between $3,000 and $3,500 per driver.
SleepSafe Drivers, a provider of sleep apnea diagnosis and treatment programs for truck fleet operations, offers onsite diagnostics through an ambulatory testing program, says Dana Voien, the company's president. Drivers use a small device to monitor their sleep in a natural location, such as a cab, hotel or home.
On average, treatment for OSA led to over $6,000 in total health plan and disability cost savings per treated driver.
Fusion Sleep created the Sleep4Safety program to diagnose and treat at-risk drivers without pulling them off the road or rerouting them to a sleep clinic location. The program allows onsite initial diagnosis and treatment initiation. Fusion Sleep has 45 employees, including four full-time physicians and other medical professionals to provide diagnosis, treatment and driver coaching. The Atlanta-based company contracts with all major health plans. "We become the fleet's sleep medicine extension," says Sigurjon Kristjansson, chief executive officer.
But fleets also must manage driver compliance with sleep apnea treatment programs. Some vendors monitor drivers' use of CPAP devices as part of their service, while some fleets may choose to dedicate their own resources to monitor compliance.
Affiliated Computer Services (ACS) recently announced a new sleep apnea reporting service through the company's TripPak Truck Stop Scanning Network at TravelCenters of America and Petro locations. Drivers using Sleep Pointe's APAP machines can use a "SmartSticks" USB drive to upload sleep data through the ACS sleep apnea reporting service.
The solution is aimed at carriers looking to monitor driver usage of sleep apnea devices and is an answer to the National Transportation Safety Board's recommendation that commercial drivers who suffer from OSA provide evidence of effective treatment.
Screening and diagnosis are the first obstacles.
"Most fleets lack the national infrastructure to collect and evaluate the treatment information from drivers on the road, so we see considerable demand for this type of end-to-end sleep apnea compliance reporting system," says Kelley Walkup, division vice president and general manager for ACS.
Detecting fatigue
The factors that cause driver fatigue extend well beyond sleep disorders. Fleets also can monitor their operations to detect certain driver behaviors that might contribute to fatigue.
Since 2005, Knight Transportation has used a product from Innovative Computing Corp. called IES Aware to monitor vehicle position data for its 3,700-plus tractors to detect instances of possible driver fatigue. IES Aware instantly reports exceptions where drivers exceed company-determined parameters used to identify instances where driver fatigue might be or become an issue.
"There are other things we monitor besides driving hours that are not related to hours-of-service rules, such as monitoring driving activity between the hours of 12:30 a.m. and 4:30 a.m.," says Brett Sant, vice president of safety for Phoenix-based Knight.
The parameters Knight has set up in Aware help identify potential fatigue-related concerns and abuses. As a company policy, drivers have standing authority to shut down whenever they feel tired. "It gives us an opportunity to get involved and help," Sant says.
Knight also uses the exceptions captured by Aware as one of many inputs for driver scorecards, which the company uses to manage driver safety and performance.
Modern fatigue detection devices also are available to monitor driver steering, blinking or head movement patterns. These technologies, which are designed to alert a driver instantly, show promise but are not ready for prime time yet, Osterberg says.
One method to detect fatigue – albeit after the fact – is by using audio/visual recordings of critical events and accidents. DriveCam offers a full-scale driver risk management and analysis system that uses a palm-sized in-cab recording device that captures the driver and forward view. The recorder is triggered by events such as hard braking and swerving.
The video clips are downloaded from the vehicle into DriveCam's data center through wireless networks. Certified behavior analysts note any driver behaviors – including drowsiness – and conditions outside the vehicle that may have contributed to high-risk events. Fleet managers can go to a website each day and see how DriveCam scored their clips, as well as any coaching comments.
An analysis of the millions of events captured by DriveCam shows that fatigue is a relatively minor direct cause of accidents. The collision rate for all trucks – the assumed rate of collisions per vehicle per month based on a sampling of vehicles in DriveCam's database – is 0.3 percent. Of these collisions, 2 percent are caused by fatigue, says Josh Botnen, data analytics manager. Fatigue is a primary factor in about 0.1 percent of all noncollision safety-critical events, he says.
An advanced approach to fatigue management involves the use of predictive modeling to calculate a fatigue risk factor by driver. Dupre Logistics uses a predictive fatigue management system from Circadian Technologies. As part of implementing this system nearly 10 years ago, Dupre Logistics changed its drivers' shift schedules and began using a scoring system to evaluate each driver's alertness or fatigue level.
The Lafayette, La.-based company uses electronic driver logs for compliance purposes only. The real safety benefit of electronic logs is to capture and feed data automatically to the Circadian system, such as when a driver starts and ends his workday. Precise regularity in start times is a major factor in the fatigue score.
"We look at hours of service as a compliance mechanism," says Reggie Dupre, chief executive officer. "Those rules have nothing to do with the physiology of the body. We are both compliant and physiologically safe."
In 2005, Dupre Logistics began working with FleetRisk Advisors, a company that provides predictive analytics and decision support technology to transportation companies. FleetRisk uses the driver fatigue scores as one of many predictors to determine how safe each driver will be in the next 30 days.
Dupre Logistics receives a predictive driver report from FleetRisk every two weeks. When the FleetRisk report shows a driver as unsafe, it provides the reasons why, such as a driver having a high fatigue level due to a problem with starting his shift on time. With these reports, management focuses on intervening with 10 percent of drivers with the highest risk.
C.R. England, the nation's largest refrigerated carrier, recently developed an exception-based system that both safety and operations personnel use to address driver fatigue proactively. The Salt Lake City-based fleet has integrated FleetRisk's predictive reporting system with an AS400 system it calls the Safety Workbench. Driver and safety managers use the application to track driver performance and fatigue. The fatigue scores are refreshed every week.
The safety department contacts at-risk drivers for fatigue coaching. If the Safety Workbench application consistently reports a high-risk driver for fatigue, safety will work with the driver's fleet manager on getting the driver a more consistent work schedule.
Consolidating data
Whatever information a fleet uses to manage fatigue must be concise enough to put into action. Any mismanagement of information could be used by plaintiff's attorneys as an indication of the company's failure to control and supervise drivers properly. Considering all the data available from vehicle electronics and safety systems, information systems that can create manageable exception-based reports are powerful tools.
Iteris recently announced that Meritor WABCO fleet customers now can use its SafetyDirect driver performance reporting software as a single point of access to monitor and synchronize driver performance data on braking, stability control, following distances and lane-departure warnings.
SafetyDirect uses information transmitted from the vehicle by the fleet's onboard mobile communications system. The system can report safety events for the entire fleet and has the ability to drill down to detailed information on individual drivers and events.
Iteris is working to bring more advanced capabilities to SafetyDirect that will enable users to identify behavioral patterns that could indicate deeper problems such as fatigue. For example, fleets might be able to identify a pattern of drivers having a sudden increase in lane departures toward the end of their shift, says Bill Patrolia, director of North American truck sales for Iteris.
But in the end, no treatment program, technology or company policy that a fleet uses to manage fatigue is as effective as well-trained and responsive drivers.
Fatigue is the root cause of speeding, distracted driving and other bad behaviors.
"Drivers have to take accountability of what rest they require," Osterberg says. "We have to provide them with the opportunity, but they have to take advantage of it." n
Who's at risk?
10 factors that might indicate OSA
According to the Mayo Clinic, the following factors identify people most at risk for obstructive sleep apnea:
• Excess weight
• Neck circumference more than 17 inches
• High blood pressure
• Narrowed airway
• Smoking
• Prolonged sitting
• Being male
• Age of 65 or older
• Consumption of alcohol and sedatives
• Family history of sleep apnea
A changing environment
New regulations will push fleets, drivers to address sleep disorders
By the end of this year, the Federal Motor Carrier Safety Administration is expected to make three policy changes that will serve to create an environment in which motor carriers will have to address obstructive sleep apnea (OSA) in a proactive manner.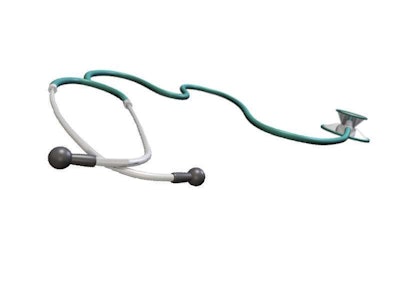 About four months ago, the National Transportation Safety Board recommended that FMCSA begin testing and treating truckers for sleep apnea. In response, FMCSA Administrator Anne Ferro stated that the agency will endorse the guideline recommendations from its own Medical Review Board by the end of the year.
These recommendations apply to physicians that administer Department of Transportation physicals for commercial drivers. Based on the Medical Review Board's recommendations, a physician would ask drivers five questions that pertain to sleep disorders; if drivers answer positive to two of the five questions, they will need to be tested for sleep apnea. Examples include: Does the driver have a Body Mass Index of 30? A neck size of at least 17 inches? A history of hypertension, cardiovascular problems, diabetes or stroke?
Along with adopting the new guidelines, FMCSA will create a registry of physicians certified to perform DOT physicals and will adopt some enforcement tools to ensure physicians follow the guidelines and thus screen drivers more rigorously for OSA.
The new Comprehensive Safety Analysis 2010 safety regime also will give motor carriers more of an incentive to offer screening and treatment options to drivers for OSA. As part of the CSA 2010 implementation, FMCSA is using a new Safety Measurement System that accumulates penalty points for accidents and tickets that are rolled up from drivers to the fleets. Reducing driver fatigue is one way to reduce accidents and the negative impact they have on a fleet's safety rating.