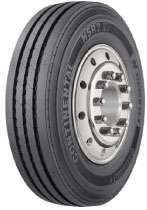 Medium-duty hybrid steer
Continental Tire the Americas' HSR2 Eco Plus medium-duty steer tire for hybrid highway and regional applications uses a fuel-efficient compound and has a four-rib tread design that helps improve rolling resistance. The HSR2 Eco Plus, available in size 275/80/R22.5, incorporates a protective curb rib for high-scrub applications, groove geometry that helps reduce cracking and tearing, and the company's proprietary VAI-plus system of visual alignment indicators that also demonstrate the tire's tread depth. The HSR2 Eco Plus, which has been verified by the U.S. Environmental Protection Agency's SmartWay Transport Partnership as a low rolling-resistance truck tire, also is able to handle diverse conditions such as potholes and curbs that often can lead to tire damage.
Continental Tire the Americas
Visit www.ccjdigital.com/info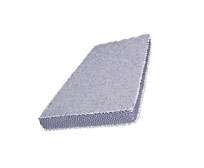 Innerspring, foam mattress
TRP Aftermarket Parts' premium high-density innerspring and foam mattresses for sleeper bunks feature a high thread count and a three-layer quilted design that resists tearing. The innerspring mattress, suited for team drivers, is 7 inches thick and features a design that limits horizontal motion, which minimizes friction in the springs and reduces motion and noise; the quality of the innerspring construction means longer wear, and a straight cut foam topper over the top and bottom of the mattress provides an added layer of comfort. The 5-inch-thick foam mattress features premium high-density foam that offers full body support. The innerspring mattresses are available in 25-by-79-inch or 31-by-79-inch sizes; for larger requirements, the mattress is available in 26-by-80-inch, 31-by-80-inch, 38-by-80-inch, 39-by-80-inch or 42-by-80-inch sizes. The foam mattress is available in 31-by-79-inch or 35-by-79-inch sizes and also in 36-by-80-inch, 38-by-80-inch, 39-by-80-inch or 42-by-80-inch sizes. Both the innerspring and foam mattresses come delivered in "tight roll" packages that enable them to be transported and installed easily.
TRP Aftermarket Parts
Visit www.ccjdigital.com/info

Motion-activated LED trailer lamp
Truck-Lite's Super 80 LED interior trailer lamp has an infrared motion sensor to boost efficiency for trailer operators. The sensor, which compares changes in heat coupled with motion, can sense movement up to 10 feet away from the lamp surface; the lamp is designed to remain on through five minutes of inactivity before automatically shutting off, saving power consumption. The near-flush mounting design is 1.1 inches thick, which leaves more clearance for loads or loading equipment; retrofits or replacements have a recommended cutout of 16-by-4 inches. The rugged lamp is composed of die-cast aluminum housing and a polycarbonate lens; the potting material encapsulates the LED's circuit board to facilitate resistance to shock, vibration and fluids from cleaning activities. The Super 80 will function at full brightness from 7V to 16V; the lamp's 10 LEDs reach full brightness at 9.5V, which helps eliminate low-voltage problems.
Truck-Lite
Visit www.ccjdigital.com/info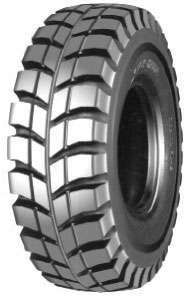 OTR tires for dump trucks
Yokohama Tire Corp.'s RL42 and RB42 OTR tires are designed for dump trucks but have two different applications: The RL42 is for hard-packed surfaces and jobsites where longer hauls are needed, while the RB42 is made for soft and/or loose surfaces such as mud, sand, gravel and rocks. Both tires come in sizes 1800R33 and 2400R35 and feature an extra-durable casing and a deep flush tread, and both also have steel cord belts to guard against tread punctures and buttress side protection to help prevent snags and cuts on sidewalls. The RL42 features circumferential grooves designed to dissipate heat to run cooler, enabling long-haul capabilities at jobsites; a directional tread pattern that helps improve self-cleaning for increased traction; and deep, wide grooves that help expel mud and dirt for better traction. The RB42 features a zigzag groove pattern that helps provide better traction on muddy and rocky surfaces, while large center blocks help increase resistance to cuts and enhance overall wear.
Yokohama Tire Corp.
Visit www.ccjdigital.com/info
Vehicle data recording system
T3 Motion's MotionTrak 300 Series recording system is a compact vehicle-mounted "black box" unit that captures video and data to help optimize routes and fleet management, encourage safe and efficient driving habits, investigate accidents and simplify litigation, decrease fuel consumption and reduce insurance costs. Data gathering is selectable by the user and can be triggered by an event or set for constant recording. Data monitored include vehicle speed, location and G-force shocks. Built-in GPS capability is integrated with Google Maps to track precise location and provide a vehicle movement overview. The system's small cameras can be mounted discreetly to record video footage from any viewpoint. Sophisticated software enables the user to see video footage from the vehicle's perspective, overhead Google Earth location display and numeric as well as graphical data on a single screen. The video footage can be searched frame by frame for detailed analysis. PC-based viewing software and data sharing facilitate quicker, easier export.
T3 Motion
Visit www.ccjdigital.com/info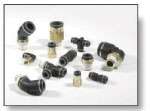 Composite air fittings
Phillips Industries has added a full line of compact, lightweight, high-performance Push-to-Connect Composite Air Fittings to its line of air and electrical connection products. The fittings, which require no special tools and are engineered for proper sealing even when the tubing cut is not straight, are suited for emergency situations and are available in union, tee and elbow configurations and sized to fit common tubing and pipe dimensions.
Phillips Industries
Visit www.ccjdigital.com/info

Portable trailer testers
Innovative Products of America has designed a line of portable battery-powered trailer testers for checking lights and electric brakes on a wide range of trailers. The Mini-Mutt No. 9003 is an analog tester for 4-, 5-, 6- and 7-pin light-duty trailers and features short-circuit protection and amperage readout. The Smart-Mutt series No. 9004 and No. 9007 both offer advanced diagnostic testing capabilities that allow a technician to use remote control to test electric brakes and diagnose short circuits, open and crossed circuits and poor grounds. All models include rechargeable batteries and a charger.
Innovative Products of America
Visit www.ccjdigital.com/info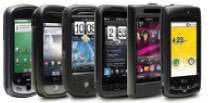 Smartphone protective cases
OtterBox now has Commuter Series smartphone protective cases for the LG Ally, LG GW620 smartphone, HTC Imagio, Nokia X6 and Samsung Moment, as well as a Defender Series case for the HTC Hero. Commuter Series cases combine features from the Defender Series and Impact Series lines, resulting in a sturdy, stylish hybrid design that offers protection in three layers: A silicone skin that wraps around the device, giving it a grip for the user and extra shock absorption for the device; a polycarbonate shell that snaps around the silicone covering the back and sides of the device and allowing it to slide in and out of any pocket or bag; and a self-adhering screen film to prevent scratches. The rugged Defender Series – which fights against bump, shock, drop and dust – encases the device in a polycarbonate snap with a silicone overlay to give the case grip and prevent dropping; the HTC Hero case also comes with a ratcheting belt clip.
OtterBox
Visit www.ccjdigital.com/info
Trailer skirt
Silver Eagle Manufacturing's Aero Saber aerodynamic-enhancing trailer skirt has been certified by the U.S. Environmental Protection Agency's SmartWay program and also is a single-source solution to comply with California Air Resources Board regulations that require 53-foot trailers to have aerodynamic devices to obtain a 5 percent or greater verified fuel savings. The Aero Saber skirt, which the company says offers 5.7 percent fuel savings, also has a high 18-inch ground clearance and is a "green" product made of 90 percent recycled aluminum and rubber. The entire system is designed to be 100 recyclable at the end of its usable life.
Silver Eagle Manufacturing
Visit www.ccjdigital.com/info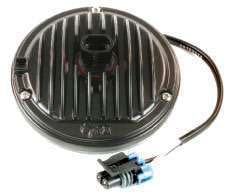 LED for corrosive environments
Grote Industries designed the latest version of its Trilliant 36 LED WhiteLight Conversion Bulb specifically to operate in adverse conditions where sodium chloride, high humidity and other corrosive elements wreak havoc on most PAR 36 incandescent work lamps. The design is suited for applications such as salt spreading, bulk transporting and food and chemical processing, and includes a more robust, sealed Packard Metripack 150 connector that helps resist moisture and chemical intrusion. The female receptacle on the back of the lamp also accommodates the AMP Superseal connector style. The conversion bulb is suited for applications that require it to be mounted low or close to potential contaminants and is designed to snap easily into any standard PAR 36 housing; by changing out the bulb and wiring the pigtail, users can upgrade from an existing incandescent or halogen lamp to a 900-lumen LED WhiteLight lamp designed to last longer and shine brighter than a traditional PAR 36 bulb while requiring half the power. The bulb, rated for a service life of 40,000 hours, is manufactured with rugged UV hard-coated polycarbonate lenses.
Grote Industries
Visit www.ccjdigital.com/info
Rivetless S-ABA covers
Haldex Commercial Vehicle Systems' rivetless front and rear covers for S-ABAs (self-setting automatic brake adjusters) are designed for correct fit, easy installation, improved performance, extended service life and streamlined inventories. The front and rear covers, which previously had a retaining rivet, now are retained by an adhesive compound for enhanced sealing and improved tamper resistance. The rear cover has a grease relief that creates a designed path for grease flow.
Haldex Commercial Vehicle Systems
Visit www.ccjdigital.com/info
Natural gas engine oils
ConocoPhillips Lubricants formulated its premium low-ash natural gas engine oil, 76 Lubricants Triton 5005EXD, to meet the increased performance demands of today's high-output natural gas engines. The dispersant-detergent oil, designed for use in four-stroke-cycle engines fueled by compressed natural gas or liquid propane gas, combines the advantages of high-quality group II base stocks and performance additives to provide excellent engine cleanliness, deposit control and reduced wear and corrosion, says the company. The low-ash technology also helps protect emissions control devices such as catalytic converters and exhaust aftertreatment from fouling from high ash or catalyst poisons, and advances the ability for extended oil drain service.
The company also formulated both its EL MAR LA4EXD premium low-ash natural-gas engine oil and EL MAR LOW ASH, a mainline low-ash product, for high-output natural gas engines. EL MAR LOW ASH offers added oxidation and nitration control, reduced valve seal recession and enhanced engine cleanliness, helping to prevent or minimize problems such as exhaust valve recession, guttering, deposits formation and plug fouling, all of which are common to natural gas engines operating under adverse conditions. EL MAR LOW ASH is recommended for use in all naturally aspirated and turbocharged gas engines requiring low-ash engine oil.
ConocoPhillips Lubricants
Visit www.ccjdigital.com/info

LED safety light
The Sentina LED-50 eFlare is a roadside emergency light powerful enough to warn approaching drivers, yet small enough to be kept in any storage compartment. Super-bright LED lighting options deliver 360 degrees of visibility, while blinking red lights warn approaching vehicles and a bright-beam flashlight provides light for anything from checking a road map to changing a flat tire. Powered by three AAA batteries, the LED lights are energy-efficient and operate for extended periods of time.
Sentina
Visit www.ccjdigital.com/info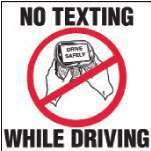 Anti-texting labels
Labelmaster has a series of labels designed to be displayed prominently on the visor, dashboard or windshield to remind all drivers not to text while driving. The "No Texting" labels, printed in bright red and black ink on a white background, are available in durable PVC-free vinyl in 4-by-6-inch and 2-by-1-inch sizes, 3-inch-diameter heavyweight coated paper and 2 ½-by-2 ½-inch cling vinyl suited for application to the inside of the windshield.
Labelmaster
Visit www.ccjdigital.com/info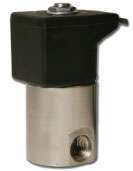 CNG valve
Parker's Fluid Control Division has developed a CNG Natural Gas Valve, a high-pressure, high-flow low-leakage valve for compressed natural gas-powered transportation. The valve, designed for integration into CNG fuel-dispensing systems, allows a high flow in both single- and multitank applications and can withstand high pressures up to 4,500 psi; for increased safety and reduced environmental impact, the valve is designed with bubble-tight leakage at 0 psi for optimal sealing performance. The two-way normally closed valve, built with a stainless-steel body, uses an integrated electrical coil enclosure and requires an 18-inch leaded connection. The valve, which can operate in a maximum ambient temperature of 170 degrees Fahrenheit, runs on 12V DC and has a current draw of 1.65 amps.
Parker
Visit www.ccjdigital.com/info

Truck-mounted forklift
Cargotec's M10 25.3, part of the company's Hiab Moffett M-Series, is a telescopic boom truck-mounted forklift for applications that require regular on- and offloading from one side of the truck or trailer, eliminating the need to move the vehicle during the loading/unloading process. Mounted or dismounted in less than a minute, the M10 reduces onsite waiting times and helps improve customer service. Typical applications include turf and lawn products, fertilizer (palletized and/or bulk bags), brick and block, architectural stone products, animal feeds, scaffolding and timber products. The driver compartment boasts enhanced ergonomics thanks to 360-degree visibility combined with the arrangement of the dash panel and automotive drive control with easy joystick control. The M10 has offroad capability and gradability for the toughest working environments and also is suited for busy, confined areas, thanks to its tight turning circle. A 37.3 kW/50hp Kubota engine provides smooth performance and operation along with reduced noise and vibration. The M10 also has been designed for quick serviceability with easy access to all fill points and the engine bay; both the bonnet and radiator grill can be removed easily.
Cargotec
Visit www.ccjdigital.com/info
Digital borescope
Snap-on's Digital Image Capturing Borescope allows technicians to diagnose problems without disassembly, resulting in significant savings in time and effort. The borescope is suited for:
• Inspecting cylinder bores and valves through the spark plug hole;
• Examining for gear wear in differentials and manual transmissions;
• Viewing inside door and body panels to check for malfunctions, defects and hidden damage;
• Inspecting under the dash for electrical routing, HVAC actuator operation and radio code verification; and
• Locating fluid leaks hidden from sight.
Key features and benefits include:
• Records and plays back images and video;
• 3.5-inch display;
• Quick-change connector that enables use of optional-length imagers;
• Removable, rechargeable lithium-ion battery pack;
• Ability to operate the unit while charging the battery;
• Integrated stand and hangar;
• Easy-to-use multilanguage interface;
• 2x digital zoom for increased viewing and recording flexibility;
• Miniature USB connector;
• External SDHC card slot;
• Control handle that disengages to allow maneuverability of imager; and
• Audio input jack for recording comments with optional ear bud and microphone attachment.
Snap-on
Visit www.ccjdigital.com/info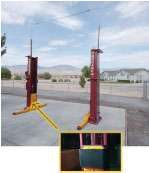 Foam door guard
Mohawk Lifts foam door guards now are available for two-post models ranging from 7,000- to 16,000-pound capacities. The foam door guard is designed to protect vehicles from dents and scratches if the door accidentally is opened into the lift columns. The door guards are made from 2-inch-thick soft foam.
Mohawk Lifts
Visit www.ccjdigital.com/info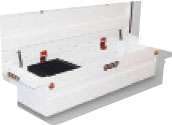 All-steel low-profile saddle box
Weather Guard's all-steel low-profile saddle box for professional contractors fits above a truck's bed rail to help keep rear sightlines intact, especially on newer pickup trucks that feature higher bed rails. The box comes in two sizes to fit both full-size and compact pickup trucks, and its heavy-duty steel construction is topped off with a powdercoat finish available in either black or white. Installation is quick and easy with crimp-free/drill-free mounting brackets. For security, the saddle box features the company's Extreme Protection lock, while a full-weather seal keeps out moisture and a weatherproof power cord pass-through permits easy access for downtime tool recharging. The saddle box also features gas shocks that ease the lid open at the push of a button; the box's cover, when fully open, sits at a 90-degree angle, providing unhindered access to the inside.
Weather Guard
Visit www.ccjdigital.com/info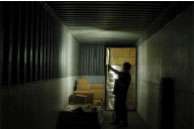 Explosion-proof LED hand lamp
Larson Electronics' Magnalight division has released a 2-foot-long explosion-proof hand lamp suited for hazardous locations. The EPL-FL1524-LED series offers vibration-proof operation, 50,000 hours of bulb life and five times the light output compared to standard 15-watt fluorescent alternatives. The hand lamp, equipped with a tube-style LED T series bulb, is available with cord lengths ranging from 25 to 100 feet and can be equipped with standard straight-blade plugs or a variety of explosion-proof plugs.
Larson Electronics
Visit www.ccjdigital.com/info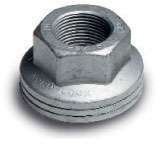 Nonloosening wheel nut
Nord-Lock designed its wheel nut to eliminate unintentional loosening, the main cause of wheel loss. Based on wedge-locking technology, the steel wheel nut is designed for both on- and offroad vehicles, suits standard flat-faced steel rims and M22x1.5 studs, and is easy to install. The wheel nut – which maintains a high clamp force, even under severe operating conditions – incorporates a pair of washers that have cam faces on one side, with radial teeth on the opposite side. When the wheel nut is tightened, the teeth of the Nord-Lock washers grip and lock the mating surfaces, allowing movement only across the cam faces; any rotation of the wheel nut is blocked by the wedge effect of the cams.
Nord-Lock
Visit www.ccjdigital.com/info n