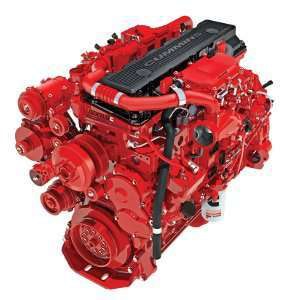 Cummins announced that it has built and shipped over 20,000 Heavy-Duty and MidRange engines with Selective Catalytic Reduction (SCR) exhaust aftertreatment so far this year and expects that number to reach 26,000 units by the end of August.
According to Rich Freeland, President – Engine Business for Cummins, these new engines are delivering on the company's promises of better fuel economy, better reliability and better performance. "Our technology experience and our own testing of the alternatives to meet the EPA 2010 emissions levels give us great confidence in our SCR solution, and we are confident that SCR is the right technology for now and for the future," Freeland says. "The fact that SCR is the right technology is being proven in the marketplace every day with our industry-leading engines. To date, the reliability data show that this has been our best launch ever. Our 2010 products are delivering up to 6 percent better fuel economy and lower CO2 emissions, and they are meeting the near-zero emissions levels required by EPA 2010 standards."
Freeland notes that Cummins has a long history of technology leadership in diesel emissions controls and has been on a long-term path to provide a stable, reliable product architecture for its customers, pointing out that Cummins was first to certify to the EPA 2002 on-highway standards using cooled Exhaust Gas Recirculation (EGR) and added Diesel Particulate Filters (DPFs) for 2007. Additionally, he says, Cummins was the first to meet the 2010 emissions standards – a full three years early – with both the Ram Turbo Diesel and the Cummins Westport ISL G. During that time, Freeland adds, Cummins was already producing Selective Catalytic Reduction (SCR) systems for Europe and is now the leading manufacturer worldwide.
Cummins has developed and certified 13 engine families to the EPA and California Air Resources Board (ARB) regulations to serve over 60 OEM customers in 180 vehicle installations. The ISX15 Family 1 engines feature On-Board Diagnostics (OBD) with improved emissions control warnings and alerts to the vehicle operator. OBD will be required by the EPA and will be featured on all engine families beginning in 2013.