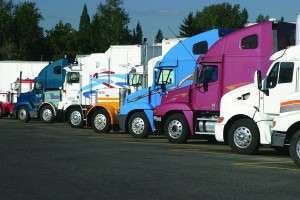 Reported sales of used commercial vehicles (Classes 3-8) were off 20 percent in July compared to June, but unit sales were up year-over year and still are running 43 percent above 2009 on a year-to-date basis, according to ACT Research Co. In the latest release of the State of the Industry: U.S. Classes 3-8 Used Trucks, ACT further reported that average used truck prices continued to move slightly higher, despite a slight rise in average age and miles of sold units.
"The average mileage of used Class 8 trucks sold in July rose above trend due to a higher than average number of older trucks being wholesaled," says Steve Tam, vice president of the commercial vehicle sector with ACT. "Anecdotal evidence suggests a shortage of late-model low-mileage equipment. This trend will likely continue for several more months until new truck purchases increase and bring in equipment that sat idle during the economic slowdown."
The ACT Used Truck database contains about 2,500 transactions per month and more than 100,000 used truck transactions over the past decade. The company is working with used vehicle market participants to push the number of reported transactions significantly higher. ACT estimates that about 10 percent of used Class 8 transactions are included in the database.