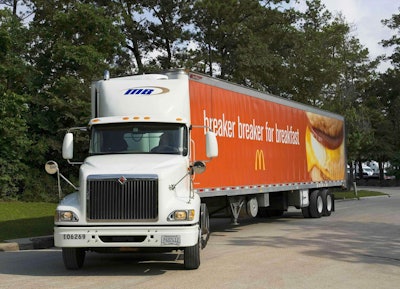 The Martin-Brower Co., a dedicated distributor for the QSR industry, has installed a computerized routing and scheduling system from Paragon Software Systems. Paragon says the software has enabled Martin-Brower to increase delivery frequency using its existing fleet without adding significant mileage; one of its service centers eliminated 5,000 miles a week on the road with the software, substantially lowering its operational costs.
All 23 Martin-Brower distribution centers in North America, Canada and Puerto Rico use Paragon for the daily routing of multifrequency deliveries to more than 6,000 customers. Martin-Brower supplies the individual restaurants with all their frozen and dry goods, packaging, cleaning products and ancillaries using its 570-strong truck fleet.
Chuck Gans, director of operations support for Martin-Brower, reports seeing benefits using the software reports. "When our Port Allen (Louisiana) DC changed from a two-deliveries a week schedule to a three-deliveries a week schedule, we constructed a new master schedule using the software, which enabled us to increase our weekly deliveries without adding excessive mileage," Gans says. "We expected an increase in miles, but the Paragon software allowed us to maximize our delivery routes without investing in new tractors and trailers."
Gans says the company's DC in Dickson, Tenn., designed a new master schedule using the Paragon software and immediately reduced its mileage by 5,000 miles a week, a 6 percent reduction. "We believe that this would not have been possible without the aid of the Paragon software," he says. "We are proud that we have been able to reduce over 900,000 pounds of CO2 out of our carbon footprint by cutting our emission levels."
Martin-Brower says it selected Paragon's routing and scheduling optimization software because pf several key features, including dispatch smoothing, allowing dispatches to be spread throughout the day, utilizing the warehouse work force properly. It also enables arrival time banding, ensuring locations with multiple delivery frequencies all are delivered within a user-defined number of minutes on all delivery days; this avoids some customers receiving morning deliveries on one route, and an afternoon or evening delivery on the next.
"We also use Paragon's delivery frequency planner to allocate store volumes across the schedules to make sure that specific orders are planned accordingly," Gans says. "In addition, the HTML reporting feature allows everyone to access important routing information produced by the software."
Martin-Brower says the software also enables it to model new routes as additional sites are added. The software helps calculate which Martin-Brower DCs are best placed to serve the new restaurant. The software assists Martin-Brower in determining whether it can provide service with existing resources or if it needs to gear up with more staff and trucks.