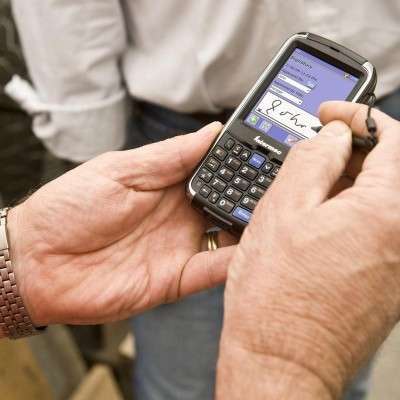 Intermec announced the CS40, a rugged mobile computer with the size and styling of a smart phone. The CS40 is designed for mobile professionals that require high performance barcode scanning and mobile line of business applications, the company says.
For transportation companies, the CS40 fits a market need for a rugged, "light production" handheld device with all the functionality of higher-priced devices, says Jeff Sibio, director of industry marketing for Intermec. The device is also ideally suited for "gray collar" workers such as dock supervisors and shop supervisors. The computer has the same functionality as the Intermec CN50, but costs $750 less, he says.
Unlike consumer grade smart phones that yield low performance and high failure rates when force-fit into line of business applications, the CS40 is designed for mobile professionals who need versatile and reliable access and acquisition of information in real-time, at the point of work, the company says.
"Businesses do not have the time or the money for employee downtime; they need reliable line of business applications operating on devices that can handle the rigors of inclement weather and accidental drops to non-cushioned surfaces, not smart phones that are built to run social networking applications and play music," said Pat Byrne, President & CEO of Intermec.
Features of the new CS40 include:
* The ability to withstand multiple four foot drops to concrete on all corners and sides
* Protection against dust and liquid intrusion from any angle with IP54 rated sealing
* High performance 1D/2D barcode scanning through a true 2D imager
* Advanced 3.75G voice and data communications
* Three mega-pixel color camera
* Compatibility with the full line of Intermec mobile printers, SmartSystems, accessories and peripherals
CS40 support can be outsourced through Intermec's recently announced INcontrol managed services offering. INcontrol delivers integrated network and device management to remotely track assets and secure network investments.
To learn more about the trends driving Intermec's new device category, Intermec has made some articles, videos and other materials available on its website at www.intermec.com