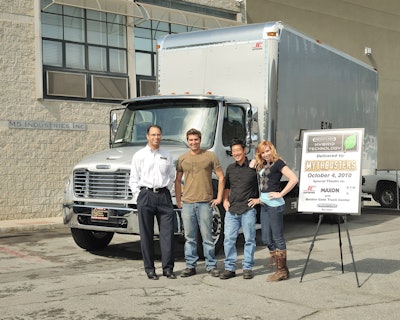 Freightliner Trucks delivered a 2010 Business Class M2 106 Hybrid dry van truck to Discovery Channel's MythBusters: Jamie Hyneman, Adam Savage, Tory Belleci, Kari Byron and Grant Imahara. The San Francisco-based show is one of Discovery Channel's highest-ranked programs, and the Freightliner vehicle will haul the show's equipment to support the production of new episodes.
The U.S. Environmental Protection Agency 2010-compliant diesel-powered Freightliner M2 106 Hybrid is equipped with selective catalytic reduction emissions technology and an Eaton parallel hybrid-electric drive unit. "While myth-busting may be a messy and challenging task, delivering the goods on-set won't be a problem for the Freightliner Business Class M2," says David Hames, general manager of marketing and strategy for Daimler Trucks North America.
"We've enjoyed a great working relationship with the team at Freightliner Trucks for many years," says Jamie Hyneman, host of MythBusters. "They've provided vehicles for truck-related myths and have offered use of their proving grounds in Madras, Oregon, whenever we need it. That's remarkable because we have a hard time getting anyone who's seen the show to loan us anything."
The 20-foot van body was built and installed at Supreme Corporation's facility in Moreno Valley, Calif., and includes a 16-foot retractable awning, exterior lighting and a hydraulic tailgate lift manufactured by Maxon Lifts of Santa Fe Springs, Calif. The truck chassis also will feature an Eaton 5 kW auxiliary power generator that will energize accessories like power tools and a refrigerator from the hybrid battery, reducing truck idle time.
"This truck is perfectly suited to support our day-to-day operations and offsite production," says Dan Tapster, executive producer of MythBusters. "We are delighted that Eaton Hybrid Power, Supreme Truck Bodies and Maxon Lifts collaborated with Freightliner Trucks to pull this together."