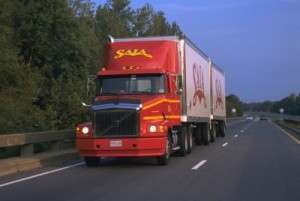 Saia Inc. announced that it was honored with two awards for its exemplary 2009 safety record at the American Trucking Associations Safety Management Council's recent Safety and Human Resources National Conference and Exhibition held in Rogers, Ark.
Saia took first-place honors in the General Commodities LTL/Local category for companies driving 50 to 100 million miles.The company also placed third in the General Commodities LTL/Linehaul category for companies driving over 70 million miles.
"This level of recognition is not a coincidence," says Rick O'Dell, president and chief executive officer of the Johns Creek, Ga.-based company. "We are very proud of all of our drivers and their dedication to the company's safety programs."
Among other initiatives, Saia's commitment to safety includes intensive, ongoing employee training, use of the Iteris Lane Departure Warning System and Eaton's VORAD Collision Warning System, and participation in ATA's Safety Council.
"These safety awards are considered to be the most prestigious in our industry," O'Dell says. "We are thrilled that the hard work of our employees has been recognized again by the ATA. Safety is Saia's number one priority. We believe that nothing is more important than the safe-being of our personnel and the driving public."