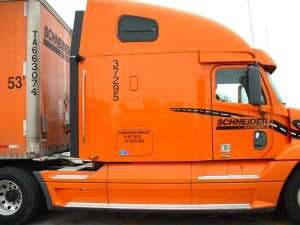 Schneider National says it further validated its position as one of the safest companies in the industry recently when the Federal Motor Carrier Safety Administration found Schneider to be compliant in all the new Comprehensive Safety Analysis 2010 Behavior Analysis and Safety Improvement Categories.
The CSA analysis is based on roadside data and investigation findings and includes a review of the following seven categories: Unsafe Driving, Fatigued Driving (Hours-of-Service), Driver Fitness, Controlled Substances/Alcohol, Vehicle Maintenance, Cargo-Related and Crash Indicator.
"Schneider National thanks everyone in the organization, starting with drivers, for living our 'safety first and always' core value every day and for helping the company achieve full compliance with CSA 2010 BASICs," says Mark Rourke, Schneider president of truckload. "Carriers committed to safety, such as Schneider National, encourage behavior that will never require a driver to compromise their personal safety or that of the motoring public. It is essential that drivers and carriers are committed to safe driving behavior because both drivers and carriers are subject to the same penalties under the new program."
FMCSA recently made commercial motor vehicle carrier safety assessments available to the carriers for review to allow them to identify and address unsafe behaviors that can lead to crashes. The agency plans to make the assessments available to shippers and the general public in December.
With its drivers moving thousands of loads daily, Schneider says it makes every effort to ensure that drivers are operating safely and are in compliance with CSA 2010 regulations. Schneider recently started a program to provide drivers with their individual CSA 2010 performance data at any time. When a driver discovers inaccurate data, Schneider will assist them in working with FMCSA to get the inaccurate information corrected.
Schneider also provides drivers industry-leading technology that assists with CSA 2010 compliance. The company nearly has completed an upgrade of its entire fleet of trucks with Qualcomm Mobile Computing Platform 200 Series (MCP 200) in-cab technology that includes electronic logging. Schneider says driver feedback points out that electronic logging has increased their productivity and earnings opportunity.
Continuous training is another way Schneider is helping ensure drivers are compliant with CSA 2010 and also practicing safe behaviors in general. The company offers simulation-based sustainment and ongoing training for all drivers via the MCP 200.
"Our compliance with the CSA 2010 BASICs, along with the industry awards and recognition Schneider has received as a safety leader, demonstrates to drivers that Schneider is a carrier that cares about their safety," Rourke says. "For 75 years we have been guided by our number-one core value of 'safety first and always.' We know that nothing we do is worth endangering the lives of drivers or the motoring public, and that will never change."