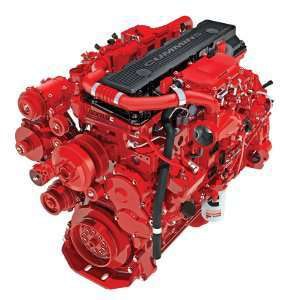 Cummins this week announced the shipment of nearly 37,000 U.S. Environmental Protection Agency 2010-certified engines with selective catalytic reduction aftertreatment to customers in North America since their introduction in January. Cummins says its engine plants in Jamestown, N.Y.; Rocky Mount, N.C.; and Columbus, Ind., serve more than 60 customers who deliver clean-diesel-powered vehicles to America.
Cummins says customer feedback also confirms the benefits of its integrated engine and aftertreatment systems, including its ISX15, with reports validating that the engines are delivering up to 6 percent better fuel economy as compared with their EPA 2007 counterparts.
"The positive feedback we're receiving from customers across North America in various environments is in line with both Cummins and customers' expectations of our 2010 products," says Rich Freeland, Engine Business president. "SCR is a key factor in enabling our engines to achieve these fuel economy improvements and performance standards."
Cummins joined leaders from the Diesel Technology Forum at the Clean Diesel 10 event, hosted by EPA, to celebrate 10 years of cleaner air through the National Clean Diesel Campaign and the Diesel Emissions Reduction Program, in Washington, D.C. The ISX15 and Cummins Aftertreatment System were showcased by Cummins during the event.
"Cummins is pleased to be with the Diesel Technology Forum this week to commemorate the evolution that the industry has made toward clean diesel," says Srikanth Padmanabhan, vice president and general manager – Cummins Emission Solutions. "Ten years ago, the EPA's heavy-duty highway diesel rule was finalized, and the engines on display today are delivering more than a 90 percent reduction in oxides of nitrogen and particulate matter. Getting diesel emissions to near-zero levels over the last decade was a challenge that Cummins embraced as a technology leader in the industry. With SCR technology, I'm confident that the next decade will provide many advances that are mutually beneficial to clean air and satisfied customers."