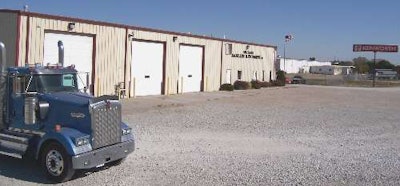 Sahling Kenworth has expanded its parts-only store in Columbus, Neb., into a full-service dealership located on U.S. Route 30. The newly expanded facility combines the dealer's parts-only store with a repair shop, which both have been remodeled into a 9,000-square-foot full-service dealership located on more than 6 acres. The service department also has a truck steam bay, while the parts department has more than 3,000 square feet of parts storage and parts for outside salesmen to keep the maintenance shops of local fleets supplied with the parts they need.
"We've been in the community of Columbus for 14 years with our parts-only facility," says John Hanna, Sahling Kenworth-York principal operating manager, who also oversees operations at the Columbus location. "Now that we have acquired the property and the repair shop, we offer local companies a one-stop shop where they can buy their trucks closer to home and get service for them. They don't have to drive 60 miles south to our location in York or 120 miles east to our location in Kearney. It's a real plus for our customers."
Sahling Kenworth-Columbus is located five miles east of U.S. Route 81. U.S. Route 30 is a major east-west highway that parallels U.S. Interstate 80, crosses Nebraska and intersects with U.S. Interstate 29, north of Omaha. U.S. Route 81, which is the longest north-south highway in the United States, stretches from Fort Worth, Texas, to Pembina, N.D., at the U.S.-Canadian border.
The dealership offers Kenworth PremierCare parts and service programs, as well as Paccar Financial support through flexible retail loans, leases and insurance products for the transportation industry. The Sahling Kenworth-Columbus shop is equipped and stocked with parts to provide routine preventive maintenance, warranty service and repair on the Paccar MX and Paccar PX series engines. In addition to supporting the Paccar family of engines, the shop can provide preventive maintenance, warranty service and repair on Cummins engines.
Sahling Kenworth-Columbus, located at 3130 E. 23rd St., is open from 8 a.m. to 5:30 p.m. Monday through Friday and 8 a.m. to noon Saturday. The phone number is 402-563-0255 or toll-free at 1-888-399-4645. In addition to Hanna, key personnel include Mike Stucky, sales/store manager; Kevin Bright, service manager; Jeff Oppliger, parts manager; and Dave Birt, truck sales.