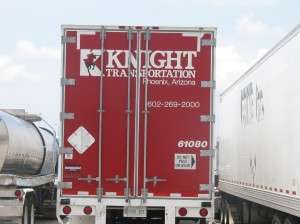 Knight Transportation on Wednesday, Oct. 20. reported revenue and earnings for the third quarter ended Sept. 30, 2010. Total revenue increased 10.5 percent to $191.3 million from $173.1 million for the same quarter of 2009. Revenue before fuel surcharge increased 7.9 percent to $162.1 million compared to $150.2 million. Net income increased 27.0 percent to $16.7 million from $13.1 million.
Year-to-date, total revenue increased 12.1 percent to $542.4 million from $483.9 million for the same period of 2009. Revenue before fuel surcharge increased 7.0 percent to $457.7 million from $427.6 million. Net income increased 19.8 percent to $44.8 million from $37.4 million.
"Freight demand was relatively consistent throughout the third quarter," said Kevin Knight, chairman and chief executive officer of Phoenix-based Knight. "Demand, however, did not outpace available capacity to the same degree as the second quarter. We experienced year-over-year revenue growth in each of our business lines of service. Also in the third quarter, we added 140 tractors, which grew our fleet size to a record high of 3,912 tractors."
Knight said the company, when including all of its businesses, produced an operating ratio – operating expenses, net of fuel surcharge, as a percentage of revenue before fuel surcharge – of 83.2 percent in the third quarter of this year compared to 86.2 percent in the same period last year.