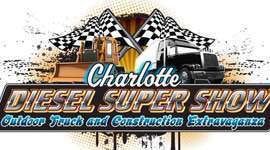 Thousands of trucking and construction industry visitors gathered at the z-Max Dragway/Charlotte Motor Speedway to take part in the inaugural Charlotte Diesel Super Show, which brought together industry personnel and enthusiasts to enjoy a mostly all-outdoors show, which included industry displays, demonstrations, truck ride and drives, free NASCAR ride-alongs, jet funny cars and truck drag racing.
"We've never had so much fun producing an event," says Alan Sims, vice president and executive director for the Randall-Reilly Events Group. "To have such a great turnout, with so many pleased sponsors, participating companies and attendees, was more than we could have imagined for a first-time event. We have definitely hit on a formula that appeals to everyone, while still delivering what our sponsors and vendors need – business contacts."
"For our first ever event of this type, I believe we hit a home run," says Mike Reilly, chairman, president and chief executive officer. "We received many compliments throughout the event and many people wanting to verify that we plan to do the event on an ongoing basis. We definitely do."
Management reports that next year, event growth will come by way of expansion in the diesel truck segment of the event, as well as by adding a new construction pavilion to the show. The 2011 Charlotte Diesel Super Show will be held again in October, with the show dates being announced in the near future. For information on participating in the 2011 event, contact the Randall-Reilly Events Group at info@truckshow.com.