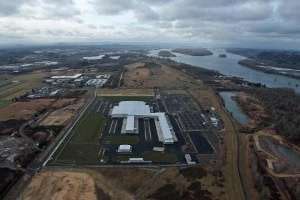 As part of an ongoing national expansion plan, FedEx Ground, the small-package ground delivery unit of FedEx Corp., on Thursday, Oct. 28, celebrated the opening of a major distribution hub in Troutdale, Ore., replacing its former Portland operation on Swan Island. The new 447,000 square-foot $130 million facility operation sits on 77 acres of land and is the first development in the Troutdale Reynolds Industrial Park, which was an aluminum reduction site for nearly 60 years.
The package processing hub moves packages at 540 feet per minute along nearly 15 miles of conveyor belts, processing up to 22,500 packages per hour. With projected future expansion, the facility will be able to process 60,000 packages per hour at full capacity. Currently about 750 employees, independent contractors and their drivers are working out of the new hub. About 100 of those people have been added since the hub began operating in August. Eventually, the work force is expected to exceed 1,000 people.
"Enhancing our distribution capability in the Pacific Northwest is an important step in our ongoing efforts to increase the size, speed and efficiency of our network," says John Hiltz, FedEx Ground western region vice president. "This new facility will help us meet the growing demand of local shippers, improve service on packages coming into the area for final delivery and serve as one of just two gateways for shipments destined to Canada."
The new FedEx Ground hub is part of the company's nationwide network expansion to boost daily package volume capacity and further enhance the speed and service capabilities of its network. Since FedEx Ground embarked on the multiyear expansion program in 2002, the Portland hub becomes the 10th new hub featuring advanced material-handling systems that has been added to the network, while more than 500 local facilities have been expanded and/or relocated.
FedEx Ground says the network enhancements have resulted in accelerating ground service delivery by one day or more in more than half of the United States. FedEx Ground says it delivers more than 60 percent of packages in two days or less and more than 80 percent of packages in three days or less. According to the company, average daily package volumes have increased by more than 60 percent, from 2.1 million in 2003 to more than 3.5 million today.